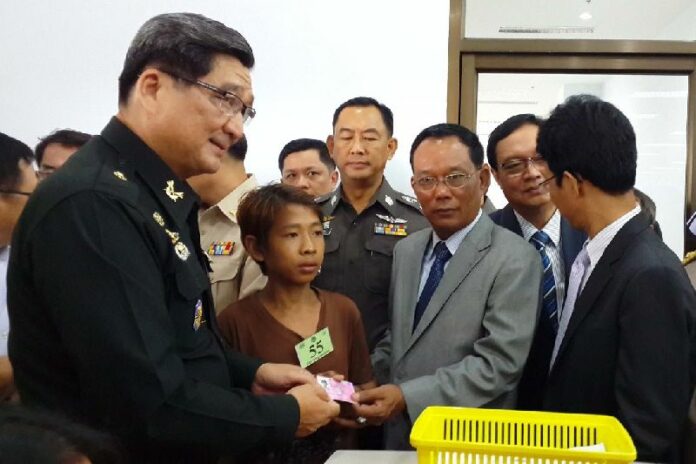 BANGKOK — Several thousand Cambodian migrant workers have returned to Thailand following their massive exodus back to Cambodia several weeks ago.
Fearing a harsh crackdowns on migrant workers in the wake of 22 May military coup, over 200,000 Cambodians fled back to their homecountry in June, despite the military junta's insistence that it had no plan to persecute documented workers.
However, officials say the trend has started to reverse in recent days, with a number of Cambodians returning to find work in Thailand again.
Yesterday, more than 400 Cambodians lined up for legal registration outside a "One Stop Service" centre set up in the border province of Sa Kaeo, with Thai employers arriving throughout the day to hire the newly-registered workers.
Police in Trat province also provided pick-up trucks to transport migrant workers from the border checkpoint to the registration centre in Sa Kaeo.
Pol.Maj.Gen. Teerachai Dedkhat, an immigration police commander in Sa Kaeo, said approximately 4,000 Cambodians have registered at the "One Stop Service" centre since 26 June.
"There are no more rumours," Pol.Maj.Gen. Teerachai said, referring to the NCPO's claims that false rumors of a crackdown drove the mass exodus of Cambodian migrants earlier this month. "Most of the workers don't believe in it anymore."
Som Jen, a 31-year-old Cambodian immigrant, told our correspondent that he also believes the news about the imminent crackdown was only a rumour.
However, many Cambodians have still not returned to Thailand because they are helping their families farm rice during the rainy season, said Mr. Som shortly after he crossed the border to Thailand at Thai-Cambodian Friendship Bridge.
Renewed effort to document workers
Another larger "One Stop Service" centre was opened yesterday in Samut Sakhon province, where a large number of Burmese immigrants work in factories in the seafood industry.
Officials say the centre is hoping to register at least 100,000 migrant workers in the province who are currently undocumented.
Around 1,000 Burmese, Cambodians, and Laotians showed up this morning for the registration — a much higher number than what officials expected. Some delays were also caused by computer failures, incomplete documents, and communication problems between Burmese workers and Thai officials.
After undergoing registration procedures at the centre, which included a health check-up and a 1,305 baht fee for documentation, applicants will recieve a license that permits them to stay in Thailand for 60 days, after which they must return to their homecountry to verify their nationality.
Once their citizenship in their respective countries is verified, they will be allowed to reenter Thailand and receive a year-long work permit.
The military junta's National Council for Peace and Order (NCPO) will announce a measure for foreign workers who are unable to verify their citizenship at a later time, said Gen. Sirichai Dittakul, a member of the military panel which was appointed by the NCPO to oversee matters related to migrant workers.
The NCPO will also establish residential zones for migrant workers in Samut Sakhon after their registration is completed, Gen. Sirichai added.
"These measures and procedures are urgent actions by the head of the NCPO to solve problems about migrant workers. They allow the state to regulate the alien workers in appropriate way and in accordance with principles of human rights," said Gen. Sirichai, who was visited the One Stop Service centre in Samut Sakhon today.
The registration of migrant workers "will prevent illegal actions, human trafficking, illegal entry to the country, narcotics problem, and criminal acts," Gen. Sirichai said. "Furthermore, we will urgently register fishing labourers in the 22 coastline provinces, and we will extend [the service] to the rest of the provinces."
Gen. Sirichai also advised all Thai employers bring their foreign workers for registration at the centre in Samut Sakhon, which opens from 08.30 am – 4.30 pm everyday. The process for each applicant takes around 30 minutes, he said.
Thailand has recently come under harsh criticism from rights groups and the United States government for its weak record of combatting human trafficking. Migrant workers, many of whom arrive in Thailand illegally through "brokers," are often victims of human trafficking and various forms of labour abuse.
Several weeks ago, the US downgraded Thailand to the lowest level of Tier 3 in its annual report on human trafficking. In the 2014 TIP Report, Thailand was reprimanded for harbouring "corruption at all levels" and failing to protect foreign workers from abuse at the hands of human traffickers, employers, and complicit officials.
Meanwhile, a recent investigative report by the Guardian newspaper exposed how many Burmese migrants are subject to forced labor and physical abuse by Thai employers on fishing boats. The report named the country's biggest food retailer, CP Food, as the primary buyer of seafood products supplied by these "slave vessels."