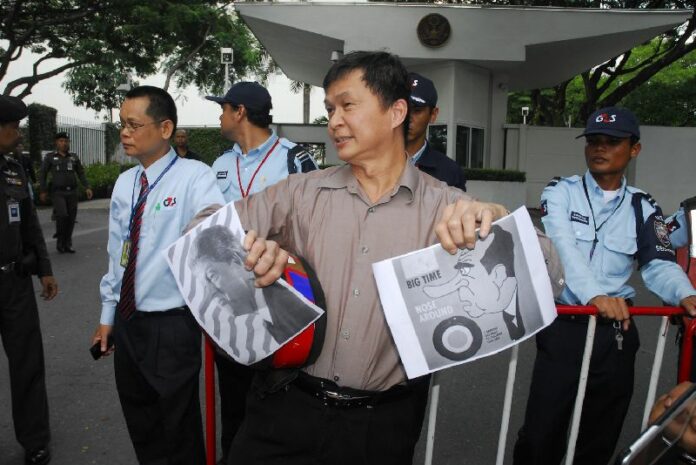 BANGKOK — Anti-coup activists staged a brief protest in front of the US Embassy in Bangkok today to test the reaction of police who permitted an anti-American demonstration to take place at the same site on Sunday.
Six members of the student activist group Centre of Students for Democracy of Thailand (CSDT) ate sandwiches and read George Orwell's Nineteen Eighty-four in front of the embassy's gate this morning.
Over the past month, those two seemingly innocuous acts have become symbols of anti-coup resistance as activists have sought to circumvent the junta's ban on political demonstrations. Last week, an anti-junta activist was arrested and detained for eating a sandwich and reading Nineteen Eighty-four in front of a major shopping mall in central Bangkok.
The leader of today's demonstration said they were there to enjoy the same privilege enjoyed by the anti-America protester who showed up at the US Embassy over the weekend. Sunday's lone pro-coup demonstrator, Thep Vetchavisit, said he was there to voice his anger towards the US government for downgrading its military relations with Thailand in response to last month's military coup d'etat.
Although the military junta has strictly banned all forms of political protest, a senior police commander said on Sunday that the anti-America protester was exempted from the ban because he was merely voicing his anger with the US government.
"This man's actions do not count as a violation of the legal ban on political protests, because it was merely an expression of anger," Pol.Maj.Gen. Amnuay Nimmano, deputy commander of the Bangkok Metropolitan Police, said on Sunday.
Today's anti-coup protesters decided to see if they would receive the same treatment.
"We thought, if we stage activities in front of the US Embassy, we won't be breaking the law," said the leader of today's anti-coup demonstration. "We came here to eat sandwiches and read books."
Several police officers observed the anti-coup protest but did not intervene. The student activists peacefully dispersed after spending about 10 minutes talking to reporters in front of the Embassy.
Scores of anti-coup protesters have been arrested over the past month for displaying opposition to the junta's National Council for Peace and Order, which seized power in a coup d'etat on 22 May. Many activists have been detained for merely displaying what have become anti-coup symbols, such as flashing the three-finger salute, eating sandwiches, and reading Nineteen Eighty-four in public.
Pol.Maj.Gen. Amnuay has not publicly responded to the CSDT's rally in front of the US Embassy today.