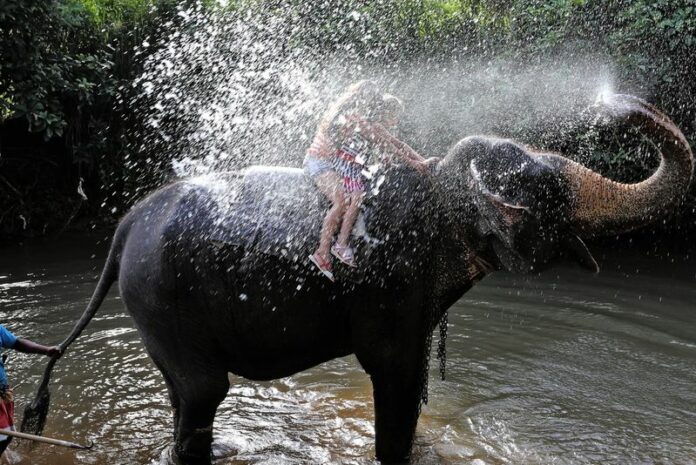 By Anthony David
COLOMBO (DPA) — An elephant shackled with heavy iron chains on its rear legs shuffles forwards, a foreign couple riding on its back. The mahout prods the elephant with a stick to keep it animal moving at one of central Sri Lanka's top tourist attractions.
The couple visiting Pinnawala, about 100 kilometres east of the capital Colombo, enjoys the unusual bumpy ride, unable from their high vantage point to see the raw chain abrasions on the animal's lower legs.
The elephant has already done several rounds that day in the scorching heat.
"Unfortunately, the foreigners who take elephant rides are unaware that use of domesticated animals for this purpose is illegal, as the government grants permission only to use them in cultural pageants and religious festivals," says Sajeewa Chamikara, director of the Environment Conservation Trust.
Despite the restrictions, demand for the animals has risen along with the fast-growing tourism industry in the previously war-torn nation.
After nearly three decades of ethnic conflict between the government and Tamil rebels, Sri Lanka is on the path to recovery, offering its golden beaches and wildlife parks to visitors from around the world.
The country's herds of elephants, and a state-run elephant orphanage in Pinnawala, have made it a prime tourist destination.
"The demand for elephants in the tourism industry is on the increase. As the laws prevent use of the animals in the tourist industry, some of them have gone to capture them from the wild," environmental lawyer Jagath Gunawardena said.
With an estimated elephant population of 6,000, the government's wildlife department says Sri Lanka annually loses about 250 animals. Most often, the deaths are a result of elephants encroaching on human settlements and being shot or poisoned, or killed with explosives.
But smuggling accounts for more deaths each year, Gunawardena said.
"We believe that for every baby elephant captured, the elephant (mother) is killed, as it is usually difficult to separate the mother otherwise. This is a dangerous trend, as our elephant population is under threat," he said.
He estimated that more than 50 baby elephants have been illegally captured from the wild over the past five years. Other figures indicate that more than 70 such animals are being held.
An attempt to smuggle a baby elephant in May from a wildlife park in central Sri Lanka was thwarted by a group of animal rights activists. The perpetrators escaped.
Those involved in smuggling have a broad network, said wildlife conservationist Deepani Jayantha, a member of the UK-based Born Free Foundation.
"They have a chain of contacts. They befriend local villagers, such as farmers, and even move with certain wildlife officers who are well aware of the area," she said.
"We believe that even some veterinary surgeons may help these people, as they use drugs to tranquilize the animals before capture," said Jayantha, a veterinarian herself.
A smuggled elephant can be sold for an estimated 10 million rupees (77,000 dollars).
Most of them are used simply as display animals to attract tourists, meaning they are kept tied for long hours in limited spaces, said Chamikara. Many are old and under-fed.
The state-run elephant orphanage at Pinnawala has also drawn criticism from animal rights activists, who allege mistreatment with canes and sticks.
Sri Lanka's tourism authority has guidelines on the use of elephants in the tourism sector – despite the absence of a law allowing the practice – but no effective monitoring mechanism.
Without better oversight, experts say the country's tourism industry could suffer, even as the government plans to more than double its annual tourist arrivals by 2016.
"There is growing concern about the ethical use of elephants in promoting the tourist industry," Jayantha said.
"Tourists visiting Sri Lanka and taking elephant rides should be concerned about the conditions under which the animals are held. It is one way which we can draw attention to those holding these elephants," Chamikara said.