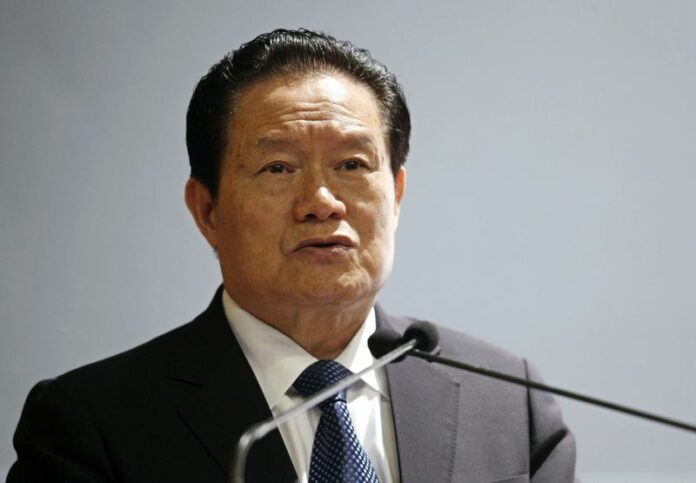 By Bill Smith
BEIJING (DPA) — China's ruling Communist Party on Tuesday announced an investigation of former security chief Zhou Yongkang for "suspected serious violations of discipline."
The party's measure against Zhou, 71, follows months of speculation centering on investigations of dozens of his associates for alleged corruption.
In its brief announcement, the party's Central Commission for Discipline Inspection gave no details of Zhou's alleged offences.
Several photographs of Zhou shown in a video report by state media included one picture of him flanked by Bo Xilai, a deposed regional party leader who was sentenced to life in prison in September for corruption and abuse of power.
Also on Tuesday, the influential Caijing financial magazine reported that authorities in the central province of Hubei had approved the formal arrest of Zhou's son, Zhou Bin, on corruption charges after months of investigation.
Zhou Yongkang's downfall comes at a time of a major anti-corruption campaign launched by Xi Jinping, who became party leader in November 2012.
Analysts see the campaign as a vehicle for Xi's fight against political rivals inside the party, as well as an attempt to tackle widespread corruption among officials.
Zhou is the first serving or former member of the Standing Committee of the party's Politburo to face a formal investigation since the downfall of the Gang of Four ended the Maoist Cultural Revolution in 1976.
The Standing Committee is an elite, seven-member body that makes all key decisions on China's politics and economy.
For the last decade of his long career as a top party official, Zhou, who retired in November 2012, developed a reputation as a hardliner while he was responsible for China's police and judiciary.
Much of his career was spent in the state-run oil industry, which he entered after studying surveying at the Beijing Petroleum Institute in the 1960s.
Zhou worked as a technician at the key Daqing oilfield in the north-east, moving up through party posts at another oilfield in the 1970s to become vice minister of the petroleum industry in 1985.
He took more oil-related posts until 1998, when he started work as land and resources minister and later led the populous south-western province of Sichuan.