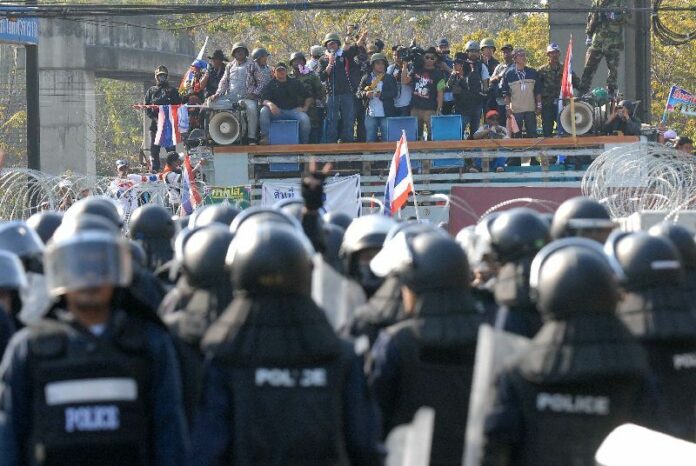 BANGKOK — Thailand's top police chief has proposed drafting 10,000 civilians to serve as riot police.
Pol.Gen. Watcharapol Prasanratchakit said the measure is needed to address the shortage of police officers available to manage crowds and protect of important public buildings during riots.
Earlier this year, police forces were barely able to contain the thousands of protesters that took to Bangkok's streets and occupied government buildings during a six month protest campaign against the former government.
Under Pol.Gen. Watcharapol's proposal, the drafted police officers would not need extensive training, as they would focus on assisting the full-time police force, he explained.
"We will train them to be a disciplined force that can provide public security," said Pol.Gen. Watcharapol, who was installed as the head of the Thai police by the military junta shortly after it staged a coup on 22 May.
Apart from providing support to riot police, the conscripts will also assist with border patrol, Pol.Gen. Watcharapol said.
"The first batch will be sent to the borders and work with the Border Patrol Police, in order to prepare for the entry to ASEAN Economic Community," the police chief told reporters. "Conscripted police will be like town guards in the past. Other countries also have [conscripted police], such as South Korea, Israel, and Singapore."
Pol.Gen. Watcharapol also proposed forming a task force that consists of 5,000 civilian experts responsible for performing auxiliary police works, such as IT duties, administrative duties, and forensic science.
The National Council For Peace and Order (NCPO) has yet to comment on the proposal.
Thai males are already required to serve in the military, either through drafting or joining the Reserve Force.
For comments, or corrections to this article please contact: [email protected]
You can also find Khaosod English on Twitter and Facebook
http://twitter.com/KhaosodEnglish
http://www.facebook.com/KhaosodEnglish