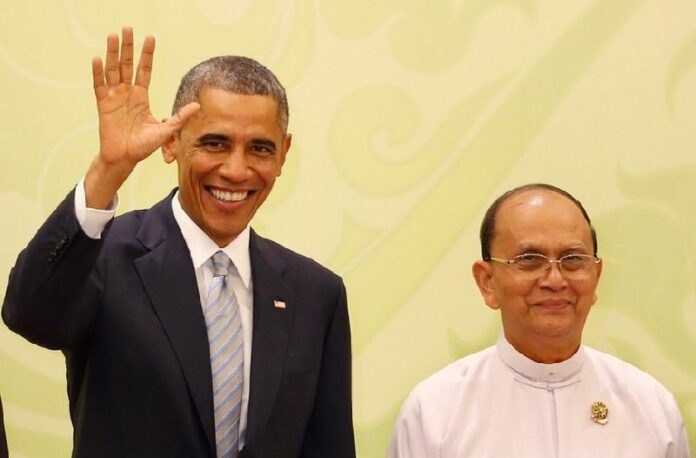 By Cod Satrusayang
NAYPYIDAW (DPA) – Myanmar defended its progress on political reforms and its treatment of minorities Thursday ahead of summit talks between President Thein Sein and his US counterpart Barack Obama.
Speaking ahead of the bilateral meeting, Myanmar's Deputy Foreign Minister U Thant Kyaw said many countries "support our reform process."
"If reforms are slowing down, why would people come to attend our summit? To some groups our reforms are happening too fast," he said.
Myanmar was under military rule between 1962 and 2010, earning it pariah status among Western democracies, but many sanctions on the country were dropped in 2012, after Thein Sein began implementing a series of political and economic reforms.
Obama told Myanmar media earlier that political progress "has not come as fast as many had hoped."
While acknowledging "difficult reforms" undertaken by Myanmar, Obama criticized restrictions on the media and said he was "deeply concerned" about the treatment of the Rohingya ethnic minority.
"We are aware of concerns over minority issues and we are investigating the situation," U Thant Kyaw told reporters.
His comments came as the East Asian Summit concluded in the Myanmar capital Naypyidaw.
The Association of South East Asian Nations and other world leaders – including from China, Japan, South Korea, Australia, India, Russia and New Zealand – concluded the conference with calls for greater economic cooperation and combined efforts in disaster preparations and the combating of disease.
Chinese Premier Li Keqiang called East Asia "one of the promising regions of the world."
"Strong relations are necessary to realize our shared vision of the Asia-Pacific region," Obama said.
Li noted improvements in relations between the nations involved in the South China Sea territorial disputes adding that all parties had conducted "close and effective dialogue and communications" over the past year.
Progress had been made on the South China Sea issue over the last year, said Philippines presidential spokesman Herminio Coloma, adding that all must "realize that there is an opportunity to move forward."
On the first day of meetings, the 10 member nations of ASEAN called for further economic integration after the implementation of the ASEAN Economic Community at the end of next year.
ASEAN comprises Brunei, Indonesia, Malaysia, the Philippines, Singapore, Thailand, Vietnam, Cambodia, Laos and Myanmar.