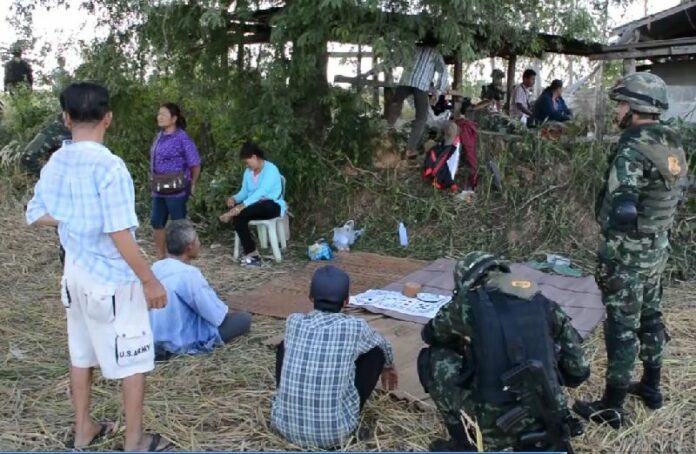 AMNAT CHAROEN — At least five heavily armed soldiers broke up a group of women and men who were caught gambling in the middle of a rice field in the northeastern province of Amnart Charoen today.
A total of 11 suspects were arrested after the soldiers, armed with automatic rifles and body armour, surrounded them with military vehicles at around 9 am this morning. Some of the players attempted to run away and hide in the rice field, but were swiftly apprehended by soldiers.
The soldiers also confiscated the group's board game set and betting money.
The raid was conducted by a local military unit stationed in the province by Thailand's military junta, which seized power in May.
Cpt. Komwacharin Korthong, the officer in charge of the raid, said a number of farmers in the area had complained to soldiers that the gamblers were disrupting their harvests by playing "high low," a popular Thai gambling game, in the rice fields.
"The spot was far from the eyes of anyone, so the gamblers didn't have any fear of the law," Cpt. Komwacharin told reporters.
Gambling of all kinds is illegal in Thailand, except for the state-run lottery and horse racing, though many Thais routinely gamble in private.
Since the military junta seized power on 22 May, soldiers have been deployed across Thailand to take up a variety of law enforcement duties. They have arrested suspected drug dealers, extortionist beach vendors, and other criminals as part of the junta's effort to promote a "tough-on-crime" image.
For comments, or corrections to this article please contact: [email protected]