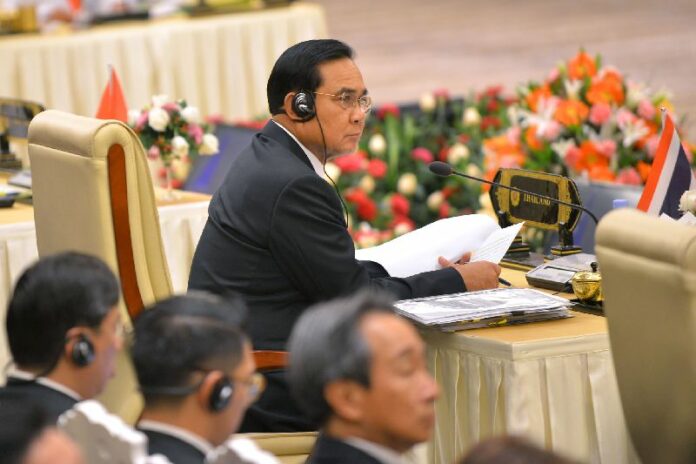 BANGKOK – Thailand's military leader has asked the secretary general of United Nations to "understand" that dire circumstances drove him to stage a coup against the elected government six months ago.
Gen. Prayuth Chan-ocha, chairman of Thailand's military junta and Prime Minister, told UN sec-gen Ban Ki Moon at an international summit in Naypyidaw, Myanmar, today that the coup was necessary to ensure the safety of Thai people, state media reported.
Gen. Prayuth has been in the Burmese capital city since yesterday to attend a summit of the Association of Southeast Asian Nations (ASEAN).
According to state media, Gen. Prayuth told Ban that he was forced to step in and topple the former government when it became clear that the violent political protests, which had been paralysing Thailand for six months, were about to spiral out of control.
"There was a domestic dispute that involved the use of military-grade weapons, and there was a real likelihood that the violence would escalate," Gen. Prayuth was quoted as saying. "So it was necessary to step in and take control of the situation."
Gen. Prayuth unilaterally declared martial law over the entire nation on 20 May, and staged the coup against the government two days later.
He also reportedly told the UN secretary general that the next year of national reforms is needed to develop "sustainable democracy" in Thailand. Gen. Prayuth added that Thailand is still upholding all of the international treaties it has signed.
Gen. Prayuth has offered a similar explanation for the 22 May coup in various public speeches given over the past six months. Portraying himself as a selfless general forced to save the nation from imminent crisis, Gen. Prayuth once went as far as complaining that he got in a fight with his wife because of his new unrewarding role.
However, critics of the coup accuse Gen. Prayuth of collaborating with the anti-government protesters and only stepping in when they failed to topple the former administration through their street campaign.
For comments, or corrections to this article please contact: [email protected]
You can also find Khaosod English on Twitter and Facebook
http://twitter.com/KhaosodEnglish
http://www.facebook.com/KhaosodEnglish