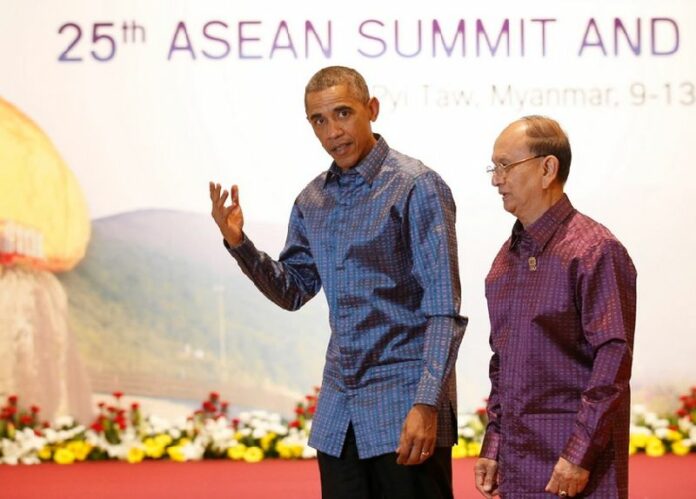 YANGON (DPA) — Visiting US President Barack Obama warned Friday that political reforms in Myanmar were "by no means complete or irreversible," after talks with opposition leader Aung San Suu Kyi.
However, "over the past two years, important changes have been made," Obama said in a joint press conference in Yangon.
The pace of reforms in Myanmar was the main theme of his talks with Suu Kyi, and with President Thein Sein in the capital Naypyidaw on Thursday, Obama said.

A poster of US President Barack Obama and Aung San Suu Kyi (C) in Yangon, Myanmar, 10 November 2014.
Over the past two days, senior officials in the Myanmar government have defended the speed of the changes, arguing that for some parts of society it was too fast, and that the process required patience.
Obama called for general elections next year to be held on time, and for them to be "free, fair and inclusive."
Suu Kyi referred to a provision of the Myanmar constitution that bars her from running for president as "unfair, unjust and undemocratic," in the joint news conference.
"If we want democracy, we have to dare to live by the principles of democracy," said Suu Kyi, who leads the opposition National League for Democracy party.
The 2008 charter contains a clause barring those related to foreign nationals from the highest post in the government. Suu Kyi's late husband was British and her two sons are British citizens.
Suu Kyi is seeking support for a campaign to amend the constitution before the elections, but the still-powerful military retains a veto on changes to the text.
Obama said the relevant provisions of the constitution "didn't make much sense to me," after talks at Suu Kyi's lakeside villa, where until just four years ago she was kept under house arrest.
Referring to ethnic violence in Myanmar's western Rakhine state, Obama said the US opposed discrimination against Rohingya, using a term for the Muslim group that has been criticized by the Myanmar government.
The US sought "durable and effective solutions for the terrible violence in Rakhine state," he said.
The attempt by the government to settle disputes with the many ethnic insurgencies in the country was also a key to progress, the two Nobel prize laureates said.
"It is the duty of the government to make all our people feel secure," Suu Kyi said. "We cannot achieve harmony without security."
Turning to Suu Kyi, Obama said "we continue to look to you for inspiration." The two politicians shared a slightly awkward embrace during the joint presser, and walked off the stage arm-in-arm.
Obama met Suu Kyi on a landmark visit to Yangon two years ago, when he become the first sitting US president to visit Myanmar.
Myanmar was under military rule between 1962 and 2010, earning it pariah status among Western democracies, but many sanctions on the country were dropped in 2012 after Thein Sein began implementing a series of political and economic reforms.