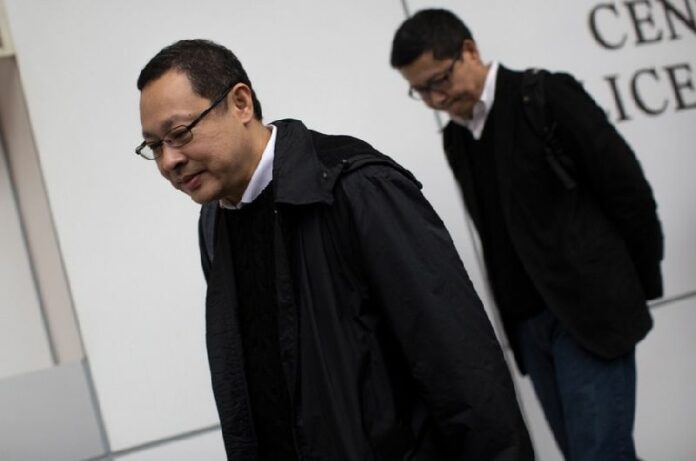 By Joanna Chiu
HONG KONG (DPA) — Three founders of Hong Kong's pro-democracy Occupy Central movement surrendered to police along with dozens of supporters Wednesday, news reports said.
A crowd of pro-government activists jeered the trio as they arrived at the central business district police station, shouting "Rubbish!" and "Go to jail immediately!" local television footage showed.
Reverend Chu Yiu-ming and academics Benny Tai Yiu-ting and Chan Kin-man brought a letter admitting to have taken part in the street protests and may have broken public order laws, the South China Morning Post reported.
Demonstrators have occupied three key areas of the city for more than two months, including business and commercial districts, to protest Beijing's decision to limit the electoral process for the territory's next chief executive in 2017.
Occupy Central first announced it was mobilizing protests for full democracy two years ago. It joined forces in late September with student protesters who made up the majority of the recent crowds.
Tai said police asked each member of the group to fill out a form declaring any offences they believed they had committed, according to news television footage.
The trio and about 60 other protest participants returned the completed forms to police and were released without charges, Tai said.
"We will have to wait and see. We may still be arrested later and charged with a more serious offence," Tai said.
Protestors clashed last week and over the weekend with bailiffs and police following a court order to clear barricades. More than 100 protesters including several student leaders were arrested.
The three Occupy Central founders Tuesday urged the protesters to retreat.
"For the sake of the occupiers' safety, for the sake of our original intention of love and peace, as we prepare to surrender, we urge the students to retreat," they said.
But student leaders vowed to escalate their actions to pressure the government.
Joshua Wong, head of student activism group Scholarism and one of the leaders arrested and bailed last week, said he and two others would go on hunger strike until the government engages them in discussions about electoral reform.
"Please do not imagine that violence or delaying tactics can stop us," the group wrote in an open letter to Hong Kong's Chief Executive Leung Chun-ying Monday.
Chinese state media on Wednesday called the students "desperate" for the hunger strike and welcomed the surrender of the older protest leaders.
People's Daily wrote that the Occupy Central leaders could face "at least three years" in prison for their self-confessed offences.