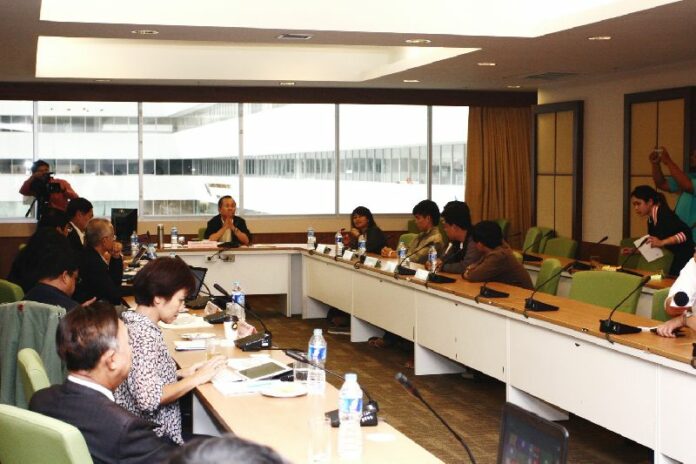 BANGKOK — The five student activists who flashed an anti-coup gesture in front of Thailand's junta leader last month have denied allegations that they were hired to stage their protest.
The students, members of the Dao Din activist group at Khon Kaen University, met with Thailand's National Human Rights Commissioner today after a high-ranking army commander recently accused them of being paid 50,000 baht by politicians to flash the forbidden anti-coup salute on 19 November.
"My intelligence units have told me that they were paid to compete for space in the media with the Prime Minister," Lt.Gen. Kampanat Ruddit, commander of the 1st Region Army, said on Monday. "They were paid for about 50,000 baht by certain politicians in the region."

Student activists in Khon Kaen interrupt PM Prayuth Chan-ocha on 19 November to flash an anti-coup salute.
The students raised the anti-coup gesture last month while Gen. Prayuth Chan-ocha, who led the 22 May coup and is now Prime Minister, was giving a speech in Khon Kaen province. The activists were promptly escorted of the premises and detained at any army base before they were released without charges.
Today, the students told Niran Pitakwatchara, a National Human Rights Commissioner, that they were not connected to or funded by any politicians. They acted merely to show their opposition to the junta's suspension of democracy, the students said.
Niran said he will arrange a meeting between the activists and Lt. Gen. Kampanat to resolve their dispute.
Thailand's military junta, known officially as the National Council for Peace and Order (NCPO), banned all public protests and political activity after toppling the former elected government in May.
Anti-coup activists quickly adoped the three-finger salute, which was inspired by the "Hunger Games" film series, to symbolise opposition to the junta's rule.