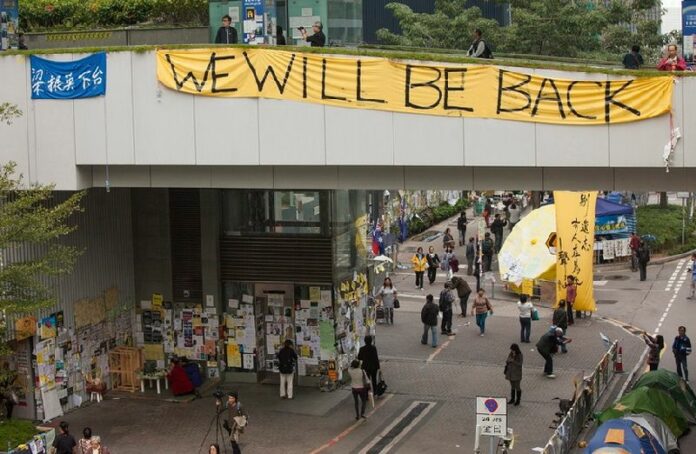 By Christy Choi
HONG KONG (DPA) – Hong Kong police cleared out one of the main camps of pro-democracy protesters Thursday and arrested more than 100 people, but without the clashes that marred previous operations.
More than 1,000 police cordoned off the camp site at Admiralty on Hong Kong island near government buildings, where around 400 protesters and some 100 tents remained early Thursday.
They closed in after giving the holdouts up to 2 pm (0600) to leave without facing prosecution, and arrested what appeared to be more than 100 people.
Those detained included media tycoon Jimmy Lai, publisher of the popular Apple Daily, singer Denise Ho and opposition lawmakers Emil Lau and Albert Chan. None resisted arrest.
Officials did not confirm how many were taken Thursday, but said the total number of arrests since September 28 had reached 306.
Thousands had gathered overnight at the Admiralty site, but most packed up and left earlier in the day ahead of the announced operation.
"We won't be here for when the police come," Jason Ng, a 24-year-old recent graduate, told dpa earlier in the morning. "My parents said: 'Don't get arrested. You will not have a good future.'"
Ng was at the camp for all 75 days of its existence, and said while this part of the movement may be coming to a close, he would continue the struggle for more democracy.
Protesters blocked the main road around the government offices on Hong Kong Island in September over Beijing's decision to vet candidates for the city's chief executive elections in 2017.
The blockage has divided opinion in the city, with some residents resenting the disruption.
Most police were in normal uniforms Thursday and appeared to be avoiding confrontation, unlike in previous clearances where police in blue boiler suits and riot gear used pepper spray and batons.
A number of academics joined the crowd to act as observers.
"We will not get in the way of police, but we will be watching your every move," John Tse Wing-ling, 60, a psychology professor at City University, said over a loudhailer.
He also urged the protesters to remain peaceful, saying he was concerned violence might yet break out overnight, as happened in previous site clearances.
"We have a lot of our students here," said Robin Bradbeer, a retired CityU professor. "So there's a paternal aspect" to the academics' supervision, he said.
Some demonstrators vowed to continue with the more fluid "shopping revolution," which has been taking place in Mong Kok, on the Kowloon peninsula, since the camp there was cleared on November 25.
Protesters have been wandering the streets pretending to be shopping – a tongue-in-cheek response to the chief executive's call for people to go shopping and normalize life in the city.
Britain negotiated a "one country, two systems" principle as part of the 1997 handover of Hong Kong to Chinese rule. It grants freedoms to Hong Kong residents that are not given to Chinese citizens on the mainland, and allows Hong Kong relative autonomy until 2047.