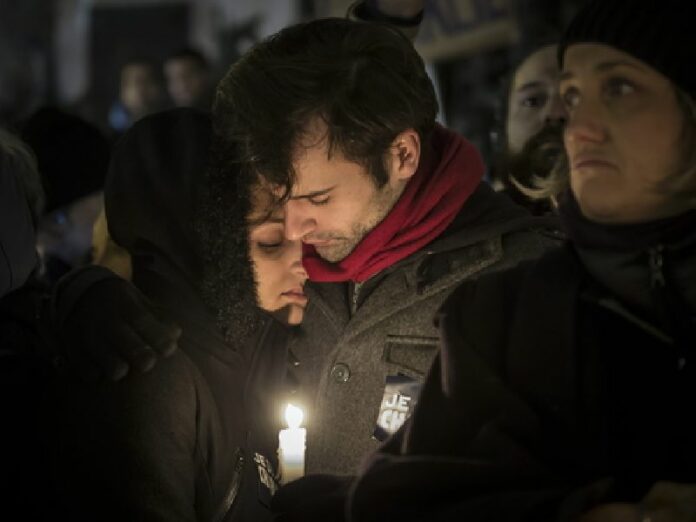 PARIS (DPA) — France began a day of national mourning Thursday, as police hunted suspected Islamist attackers who left 12 people dead at the Paris offices of a satirical magazine.
The youngest of three suspects in the assault turned himself in to police in the town of Charleville-Mezieres, some 70 kilometres north-east of Reims, one of the areas where police were carrying out their search.
He was in custody, but had not been charged, French news agency AFP reported sources as saying.
Eight journalists, including the editor of magazine Charlie Hebdo and several well-known cartoonists, were among the dead.
Two masked gunmen with automatic rifles stormed the offices of magazine in central Paris at midday Wednesday. The attackers cried "Allah is great" and "We have avenged the prophet," witnesses said.
Two other suspects, brothers named as Cherif and Said Kouachi, aged 32 and 34 respectively, were still on the run.
They are likely "armed and dangerous," police said as they published the men's photographs in an appeal for witnesses.
Cherif was convicted in 2008 for helping to send recruits to fight for al-Qaeda in Iraq and sentenced to three years in prison.
The identity cards of the brothers – both French nationals born in Paris – were found by police in their abandoned car, French magazine Le Point reported.
Charlie Hebdo is known for its unwavering stance on freedom of expression, has printed cartoons of the prophet Mohammed in the past, and was firebombed after publishing similar material in 2011.
Tens of thousands of people gathered in cities across France overnight to remember those killed.
The victims at the magazine died for "freedom," French President Francois Hollande said Wednesday, describing them as "our heroes" and declaring a day of national mourning.
There would be a "moment of contemplation" at midday (1100 GMT), and a ceremony at the National Assembly, an official statement said.
Flags would fly at half-mast for three days.
For comments, or corrections to this article please contact: [email protected]
You can also find Khaosod English on Twitter and Facebook
http://twitter.com/KhaosodEnglish
http://www.facebook.com/KhaosodEnglish