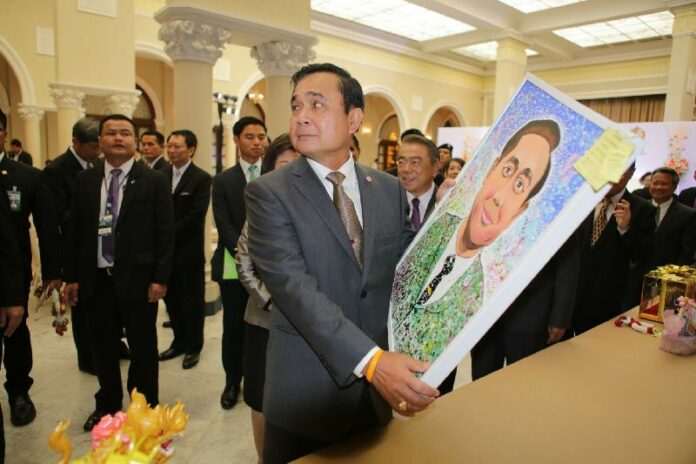 BANGKOK — Junta leader and Prime Minister Prayuth Chan-ocha has a special "surprise" planned for Thai children on Saturday, his spokesperson said.
Yongyuth Maiyalap, spokesperson of the Office of Prime Minister, said the Government House will host several exhibitions and events to celebrate National Children's Day, which falls on the second Saturday of each year.
"The Prime Minister will have a surprise," Yongyuth said. "You have to wait for that day to see what it is."
On National Children's Day, the Government House traditionally open its doors to children and allows them to take turns sitting at the Prime Minister's desk.
According to Yongyuth, this year's celebration will also feature cultural performances, photo-ops with the Prime Minister's podium, and a motorized parade by the Prime Minister's bodyguard corps.
Gen. Prayuth will personally open the ceremony at 8.30 am and watch the cultural show at 10.30 am, Yongyuth said.
"Then the Prime Minister will give a speech to the children. It will be broadcast live on Channel 11," the spokesperson said.
As per tradition for Prime Ministers, Gen. Prayuth designated the "lesson" of this year's holiday in an announcement last month: "Knowledge and morality will lead us to the future."
Other state agencies will also hold their own activities to mark the holiday. The main highlight will be military parade and display of weaponry by the Thai armed forces.
Officials at Royal Thai Army informed the media on 5 January that the army would be moving tanks, APCs, and helicopters from various military bases into Bangkok for the occasion. The army also advised the public not to panic when they see the military vehicles.
Last year, the army issued a similar statement assuring the public that its convoy of tanks for National Children's Day should not be interpreted as a sign of an imminent military coup.
"The public should not mistake such maneuver as a military coup," the deputy spokesperson of the Royal Thai Army said on 6 January 2014.
Five months later, Gen. Prayuth, who was serving as an army chief at the time, led a coup on 22 May and toppled the elected government. He later appointed himself as chairman of the ruling military junta and was selected as Prime Minister by a legislature whose members he handpicked.