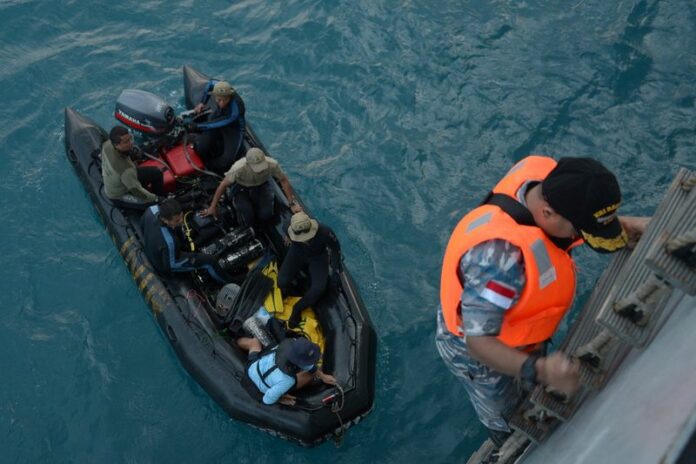 By Ahmad Pathoni
JAKARTA (DPA) – Indonesian rescuers were racing to lift the tail section of the crashed AirAsia plane as strong underwater currents were filling the wreckage with mud and making it heavier, local media reported Saturday.
Divers were still searching for the flight recorders and more bodies as weathermen forecasted waves up to 3.5 metres high with strong winds and currents in the waters off Central Kalimantan province of Borneo island.
"We are working to use [inflated] lifting bags. The plane's tail section could be heavier now because it is now filled with sea mud and sand," Suryadi Supriyadi, the national search director, was quoted as saying by news website Kompas.com.
The rescue operation detected a signal from a flight recorder Friday but divers did not find the so-called black boxes inside the tail section, where they would normally be located.
Surpiyadi said the recorders appeared to be about a kilometre from the tail section, based on the signal detected by Indonesian Navy ship KRI.
Navy divers were marking the wreckage location with orange balloons, armed forces chief General Moeldoko said via Twitter.
AirAsia flight QZ8501 took off from the Indonesian city of Surabaya and disappeared from radar en route to Singapore. The crash killed all 162 people on board, mostly Indonesians.
For comments, or corrections to this article please contact: [email protected]
You can also find Khaosod English on Twitter and Facebook
http://twitter.com/KhaosodEnglish
http://www.facebook.com/KhaosodEnglish