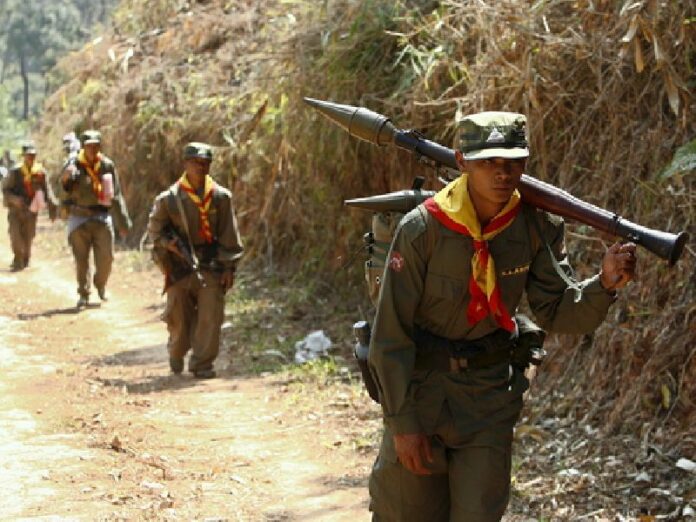 Myanmar troops clash with rebels in Shan State leaving 47 soldiers dead this week.
Yangon (dpa) – Myanmar troops clashed with rebels in Shan State leaving 47 soldiers dead this week, the state-run media reported Friday.
The army launched an operation Monday after rebels from the Myanmar National Democratic Alliance Army (MDNAA) of Kokang province seized eight weapons from a local militia, the Global New Light of Myanmar reported.
A series of clashes with the rebels over the following four days left a total of 47 soldiers dead, 73 wounded and four military vehicles destroyed, the report said.
"We also lost at least 20," MNDAA spokesman Htun Myat Linn said.
"And I know that 10 more soldiers were killed in fighting today, according to reports from our troops," he told dpa Friday.
Other ethnic rebel groups including the Kachin Independence Army, the Ta'ang National Liberation Army, the Arakan Army and Shan State Army-North in the Shan state joined them to fight government troops, he said.
The army was using helicopter gunships and fighter jets to attack rebel positions in Laukkai Township in Shan state since Tuesday, media reports said.
"We saw helicopters flying over Laukkai town, but doing nothing near the town," said Min Min, a businessman working in the town. "We heard they are striking the rebels far from the town."
"We heard several hundred people from nearby area are now heading to Laukkai town to escape the fighting. But I'm not sure the place is safe also as rebels were trying to take the town," he said.
Thousands of people in the region have crossed the border and fled into China to escape the fighting, rebels said.
"About 2,000 residents are now sheltering in Yunnan province of China," Htut Myat Linn said.
The MNDAA and allied rebel groups were fighting to retake the Kokang self-administered zone, which the MNDAA controlled between 1989 and 2009.
The army seized back the area when the MNDAA refused to reform into the Border Guard Force under the control of central military in 2009.
"The MNDAA just demands to be a group signing the nationwide ceasefire accord, but Myanmar government didn't accept our demand," " Htut Myat Linn said. "What else can we do other than fighting against them to retake our region?"
In December, seven soldiers from Myanmar's military were killed and 20 others wounded in an attack by the MNDAA on an army outpost in Shan state around 30 kilometres from the Chinese border.