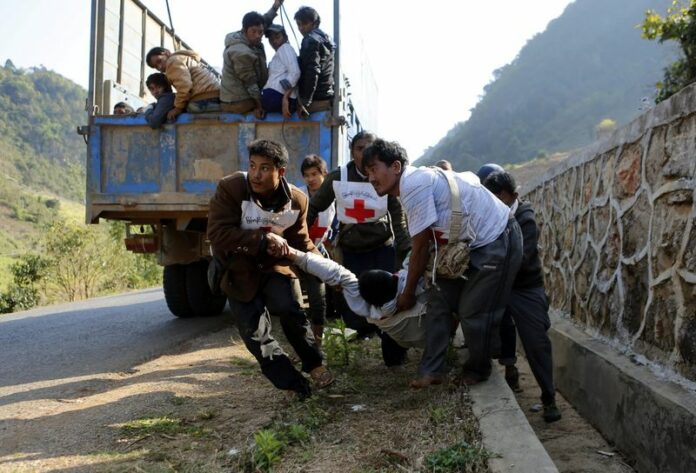 By Kyaw Lynn
LASHIO, MYANMAR (DPA) — Sheltering at Man Su Buddhist monastery in north-eastern Myanmar, Mu Mu San and eight other women as well as two children are waiting for relatives they left behind.
The monastery in Lashio town in Shan state is serving as a temporary shelter for people fleeing violence near the Myanmar-China border, some 130 kilometres away.

A wounded Red Cross volunteer lies on the ground after vehicles of a rescue convoy were attacked by Kokang rebels near self-administered Kokang capital Laukkai, northern Shan State, Myanmar, 17 February 2015. EPA/LYNN BO BO
"My husband and three relatives are still on the way and we haven't get any news of them," said Mu Mu San, 32, who fled from Laukkai, the capital of the self-administered Kokang region, which has been the focus of heavy fighting between government troops and rebels.
"Rescue trucks are full of war victims. So they prioritize children and women, so I left my husband and relatives there," said Mu Mu San.
The convoy carrying war victims, including Mu Mu San, was shot at by Kokang rebels during the drive away from the border. Two Myanmar Red Cross volunteers were wounded.
Mu Mu San's group are among thousands who fled Laukkai after fighting erupted 10 days ago.
President Thein Sein Tuesday declared a state of emergency and imposed martial law in Kokang, with dozens of soldiers and rebels killed in the past fortnight.
At least one civilian died in an ambush by the rebels Tuesday as residents fled to Lashio town further away from the Chinese border to avoid the violence.

Volunteers of Myanmar's Red Cross organisation carry a wounded volunteer Moe Kyaw, 45, near self-administered Kokang capital Laukkai, northern Shan State, Myanmar, 17 February 2015. EPA/LYNN BO BO
The rebels, formally known as the Myanmar National Democratic Alliance Army (MNDAA), are led by Pheung Kya-shin, an 84-year-old fighter of Chinese descent.
"We will keep fighting the Myanmar government until Kokang is recovered," Pheung – who speaks Mandarin with a Yunnan accent – told Chinese media in December, his first interview in 5 years.
The MNDAA controlled the Kokang region between 1989 and 2009.
Myanmar's army seized the area in 2009 in the wake of a failed peace deal, according to which the rebels were to reform into a border guard force under the control of the military.
Pheung Kya-shin refused to bargain, and he and other leaders fled to Thailand.
His rekindled fight against the government has been taken up by at least two other ethnic rebel groups.
"We are in alliance. So we must join them in fighting against the government. Otherwise, the next time it will be us," said Tar Parn La, a spokesman for the Ta'ang National Liberation Army.

Myanmar citizens are seen awaiting rescue teams to flee from self-administered Kokang capital Laukkai, northern Shan State, Myanmar, 17 February 2015. Thousands of people living around Laukkai have fled as clashes continue in the area. EPA/LYNN BO BO
Not all rebel groups in Shan state are joining the Kokang fighting, however. The powerful United Wa State Army (UWSA), which has been in talks with the government over its nationwide peace deal, has said they have no reason to help the Kokang rebels because they want peace and stability in the region.
Authorities say the fighting has been prolonged by the involvement of the TNLA and Arakan Army, both of which are fighting government forces in other areas of Shan and in northern Kachin state.
Army chief Min Aung Hlaing on Monday warned the rebel groups that joining the Kokang rebels would be a declaration of war, state media reported. "They have to take responsibility for it," he was quoted as saying.
The country's giant neighbour China adds another dimension to the violence.
More than 30,000 residents have fled to China's north-western province of Yunnan since February 9, according to Yunnan's Lincang City authorities.
Myanmar authorities meanwhile say Kokang rebels entered Myanmar from China.
Beyond the Chinese ancestral link to the MNDAA leadership, Beijing denies any ties to the rebels. It says it respects Myanmar's "territorial integrity" and would not allow organizations or individuals to undermine stability in the border areas.

A Buddhist monk and war victims fleeing from Laukkai takes cover after vehicles of the Red Cross rescue convoy were attacked by Kokang rebels near self-administered Kokang capital Laukkai, northern Shan State, Myanmar, 17 February 2015. EPA/LYNN BO BO​
Myanmar state-run media has offered an alternative explanation for the fighting, reporting that the army launched its operation last week after MNDAA rebels seized weapons from a local militia.
Whatever sparked the violence, the timing is such that a long-sought peace deal between the government and the country's myriad ethnic groups could be under threat.
One of the signatories says the Kokang rebels were not invited to take part, leading them to gain power in other ways.
"We are worrying it may impact on the ongoing peace process," said Padoh Mahn Nyein Maung, a central committee member of powerful Karen National Union, representing another ethnic group.
"They demanded that the government accept them as a group in signing the Nationwide Ceasefire Accord, but government didn't accept it. So, the fighting starts," he said.
"What else can we do other than fight them to retake our region?" said Kokang rebel spokesman Htun Myat Linn.