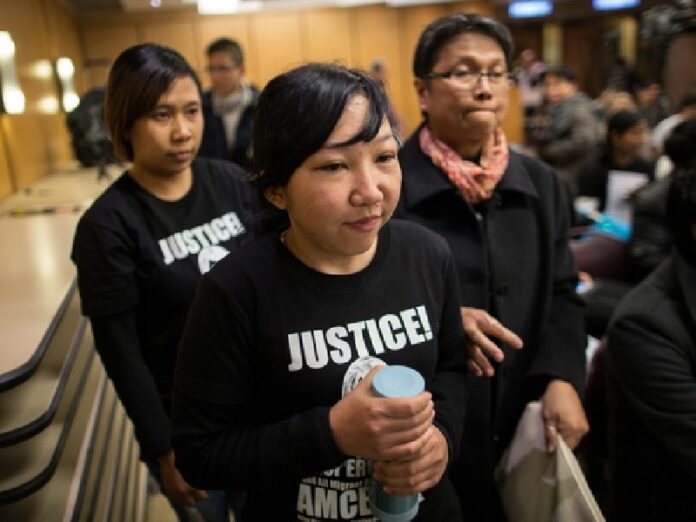 HONG KONG (DPA) – A Hong Kong woman was sentenced to six years in prison for abusing her former Indonesian maids, in a case that drew international attention, a report said Friday.
Law Wan-tung, 44 was convicted two weeks ago of assaulting and causing grievous bodily harm to her employees.
As she handed down the sentence, District Court Judge Amanda Woodcock called the former beautician's attitude and behaviour contemptible, and she had shown no compassion to her victims, the South China Morning Post reported.
The maximum sentence she could have received was seven years.
She was also fined 15,000 Hong Kong dollars (about 1,900 US dollars).
The 16-day trial revealed details of abuse that included shoving a vacuum-cleaner tube into one maid's mouth causing lacerations, slapping, scratching, punching and forcing her to urinate in plastic bags.
The judge echoed the words of rights activists in saying abuse could be prevented if domestic helpers were not forced to live with their employers.
Currently all of Hong Kong's more than 320,000 domestic helpers are required by law to live with their employers, and are paid a minimum of 4,010 Hong Kong dollars a month.
She also urged authorities in Hong Kong and Indonesia to investigate employment agencies that charge domestic helpers high fees to work overseas, said the Post.
Indonesia allows agencies to charge training fees of up to 15,500 Hong Kong dollars, the equivalent of nearly four months' for the women. But employment agencies can also charge an additional recruitment fee and are rarely investigated for exploiting the maids.
Hong Kong's employment ordinance sets the cap for such fees at 10 per cent of a person's monthly salary.
Erwiana Sulistyaningsih, one of Law's victims, said earlier that she had forgiven her former employer but wanted the maximum sentence to set an example.
She is also reportedly suing the Indonesian employment agency that recruited her for failing to ensure her safety.
Defence lawyer Graham Harris said Law's acts were not "the very worst of its kind," and argued that there was no evidence of permanent physical and psychological injuries, the Post reported.
A 2013 survey by Hong Kong's Mission for Migrant Workers found that 58 per cent of domestic workers had faced verbal abuse, 18 per cent had experienced physical abuse and 6 per cent reported sexual abuse.
For comments, or corrections to this article please contact: [email protected]
You can also find Khaosod English on Twitter and Facebook
http://twitter.com/KhaosodEnglish
http://www.facebook.com/KhaosodEnglish