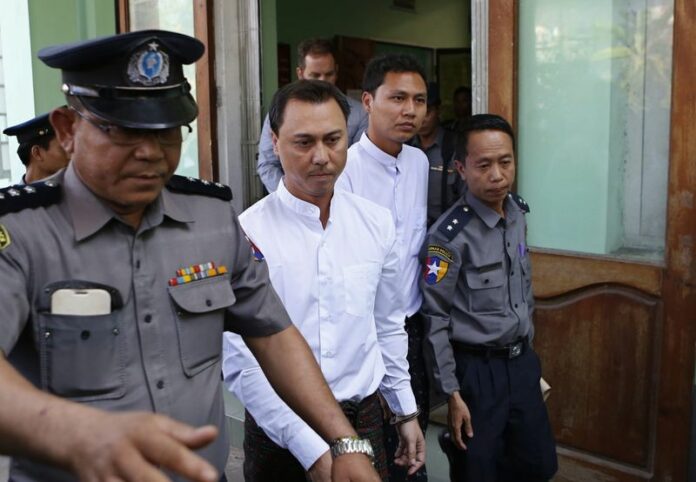 By Kyaw Lynn
YANGON (DPA) – A court in Myanmar on Tuesday sentenced a New Zealand bar manager and two Myanmar nationals to two and a half years in prison each, after they used an image of the Buddha wearing headphones in an online promotional poster.
The three men were given two years in jail for insulting Buddhism, and six months for breaching regulations on shop closing times.
The poster, which appeared in December on the Facebook page of the newly opened V Gastro bar in Yangon, sparked outrage on social media in the predominantly Buddhist country.
The bar subsequently deleted the post and wrote an apology on the Facebook page, saying they had no intention of causing "offence to anyone or toward any religious group."
But general manager Philip Blackwood, 32, owner Tun Thurein, 40, and manager Htut Ko Ko Lwin, 26, were arrested and charged with breaching the Religion Act. Their bar was closed down.
They pleaded not guilty during the trial.
The Religion Act targets anyone who attempts to insult, destroy or damage any religion with a maximum jail term of two years, with another possible two-year penalty for those who insult religion through the written word.
"I am very angry. I want to ask whether this is in accordance with the law or because of the pressure from extremist monks," said the mother of Htut Ko Ko Lwin.
The trial was seen as a sign of growing religious intolerance in Myanmar, with a growing Buddhist nationalist movement spearheaded by extremist monks, and often targeting Muslim communities.
"What this shows is freedom of expression is under greater threat than ever in Myanmar, just as the country heads into a pivotal election year," said Phil Robertson, deputy Asia director of Human Rights Watch.
"The Religion Act should be amended to bring it into compliance with international human rights standards," he said.