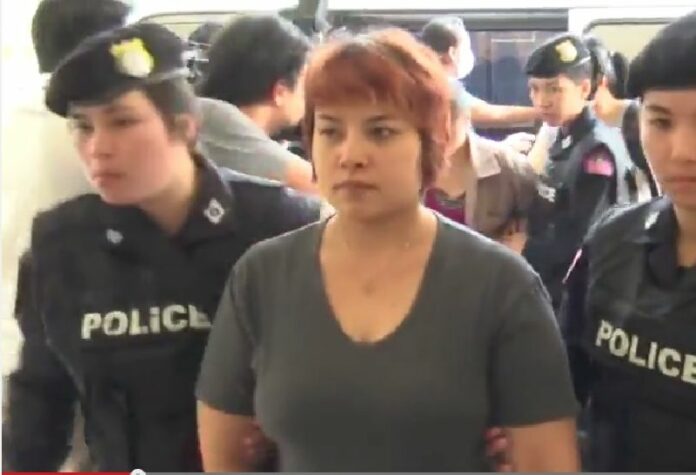 BANGKOK — The spokesperson for Thailand's military junta admitted today that the army detained a woman who went missing six days ago, explaining yesterday's denial as a "lack of communication" between different military units.
The spokesperson, Col. Winthai Suwaree, said the initial denial was based on information from the junta's security wing, the Armed Forces for Maintaining Peace and Order (AFMPO), which said the woman was not in military custody.
However, he said he later learned that Nattathida Meewangpla, 36, was being held by another unit, which he did not specify by name.
Nattathida's relatives told Khaosod over the weekend that five soldiers arrested her at her home on 11 March. According to her relatives, the soldiers did not provide any information for the arrest.
Nattathida was not heard from or seen until today, six days later, when she was transferred to police custody for her alleged involvement in a "terrorism network" that organized a grenade attack at the Criminal Court earlier this month.
According to police, Nattathida is connected to Supaporn Mit-arak, a Redshirt activist who allegedly financed the network and grenade attack. Supaporn, aka "Dear," was arrested by military officers in Mukdahan province on 12 March.
Police have accused the network of plotting to stage bomb attacks on four other targets in Bangkok, including Chatuchak subway station, the 11th Infantry Regiment headquarters, Lumpini Park, and Siam Kempinski Hotel.
At least 15 arrest warrants have been issued for suspects in connection with the courthouse attack, which took place on the night of 7 March and did not cause any injuries.
Witness of 2010 crackdown violence
Nattathida is also known for serving as a key witness in a 2013 court inquest that deemed soldiers responsible for the deaths of six civilians inside a Buddhist temple during the military crackdown on Redshirt protesters in May 2010.
Nattathida was working as a volunteer medic inside Wat Pathumwanararm, which had been designated as "safe zone" by authorities, when the incident occurred. The court ruled that soldiers standing on skytrain tracks across the temple were responsible for the deaths, which included two volunteer medics in their twenties.
Today, the junta spokesperson insisted that Nattathida's "invitation" to be held incommunicado at an undisclosed location was unrelated to her role in the crackdown inquest.
"That case is over already," Col. Winthai said.
When contacted by Khaosod yesterday, Col. Winthai denied that Nattathida was in military custody, and attributed her alleged abduction to "individuals with ill intentions" who disguised themselves as military officers.
Related coverage:
Missing 2010 Crackdown Witness Emerges from Army Custody [VIDEO]
Witness of Redshirt Crackdown Deaths 'Abducted by Military'