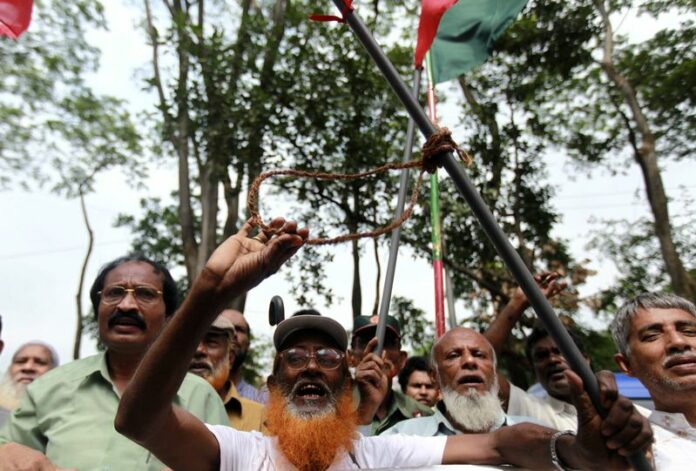 DHAKA (DPA) – Senior Islamist party politician Muhammad Kamaruzzaman was hanged Saturday for crimes committed during Bangladesh's 1971 war of independence against Pakistan, officials said.
His execution was carried out five days after the Supreme Court dismissed his request for a review of the death sentence.
Kamaruzzaman, 62, was sentenced to death in May 2013 by a special tribunal set up to prosecute people who worked with the Pakistani military during the war. Both Pakistan and its local agents were responsible for atrocities on unarmed civilians during the nine-month conflict.
Kamaruzzaman, who was a senior leader in the opposition Bangladesh Jamaat-e-Islami party, was hanged Saturday night at Dhaka Central Jail, prison official Farman Ali said.
He had been sentenced to death for his involvement in crimes that included mass killings, abductions, torture, rape, persecution and complicity in torture.
Most top leaders of Jamaat-e-Islami, which opposed the creation of Bangladesh, have already been convicted of war crimes by the tribunal.
The party has called the trials politically motivated.
Television footage showed Kamaruzzaman's body brought out of the prison by an ambulance under a heavy police presence.
The body was taken to his village home in northern Sherpur district, where he had carried out atrocities on civilians during the war.
Members of Kamaruzzaman's family met him for an hour before the execution. "My father was in good health, and he was not troubled," Hasan Iqbal, Kamaruzzaman's son, told local media.
Bangladesh won its independence four decades ago in a bloody war that left an estimated 3 million people dead, 200,000 women raped and numerous homes torched.
Kamaruzzaman was the second Jamaat-e-Islami leader executed over war crimes charges after Abdul Kader Mullah was hanged in 2013.
The government beefed up security across Bangladesh apparently to prevent violence by activists from the Jamaat-e-Islami party, which earlier went on rampage when verdicts in war crimes cases were handed down.
Several hundred youths, who have long demanded trials for the war crimes suspects, celebrated the execution in Dhaka, and demanded the immediate execution of all other war crimes convicts.
The special tribunal has so far handed down verdicts to 18 defendants – all found guilty of offences including crimes against humanity, murder and rape.
Fourteen were sentenced to death, three to life in prison and another to 90 years in jail.
Saturday's execution means that two have now been hanged and another two have died in prison
Prime Minister Sheikh Hasina set up the tribunal in 2010 after an earlier attempt to prosecute the suspects was called off following the 1975 assassination of Sheikh Mujibur Rahman, Bangladesh's founding president and Hasina's father.
The then East Pakistan became Bangladesh after the fighting ended with the surrender of Pakistani forces on December 16, 1971. The accused allegedly collaborated with the occupying army during the nine-month conflict.
(Reporting by Nazrul Islam, dpa)