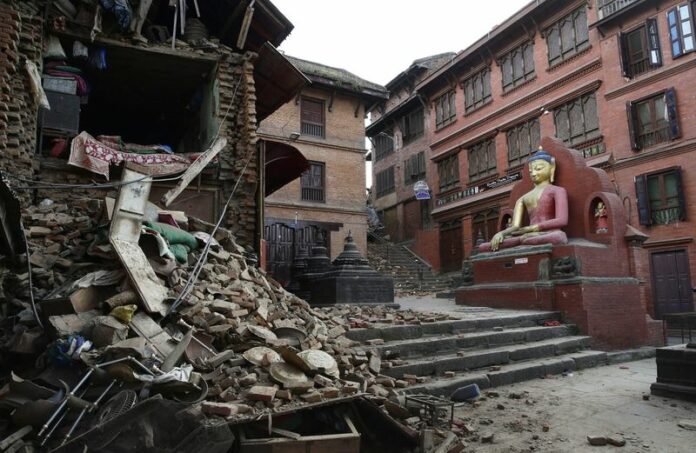 KATHMANDU (DPA) – Rescue workers in Nepal on Sunday searched through rubble for survivors as the death toll from the worst earthquake in more than 80 years reached 2,450 and new tremors sent people rushing outdoors.
Many people slept outside fearing aftershocks, which have forced some hospitals to treat the injured in the streets.

People try to free a man from the rubble of a destroyed building after an earthquake hit Nepal, Kathmandu, Nepal, April 25, 2015.​
A magnitude-6.7 aftershock, the strongest tremor after Saturday's magnitude-7.8 earthquake, sent people running for safety into the open streets and hampered rescue efforts that were starting to intensify as international rescue teams and relief aid arrived.
In the ancient city of Bhaktapur, a few kilometres south-east of Kathmandu, the dead were cremated by friends and relatives in open fields. Women wept as men brought stacks of hay and wood. Dead bodies lay on wooden slabs.
The earthquake, the worst to hit Nepal since a 1934 tremor in the Himalaya region killed 17,000 people, prompted avalanches on Mount Everest that killed 19 people. Many others are missing,
More avalanches were reported on Sunday following aftershocks.
Nepal's Interior Ministry said 2,352 had been killed, with most of the victims reported in the capital, Kathmandu. A further 50 have died in neighbouring India, while casualties have also been reported in China and Bangladesh.
Most of the deaths were caused by roof and wall collapses.
Some 6.6 million people live in areas affected by the earthquake, UN emergency aid spokesman Jens Laerke told dpa from Geneva. The worst-hit areas are in the Kathmandu valley.
With roads and communication lines destroyed, officials said the overall death toll in Nepal was expected to rise as reports came in from remote districts, where entire villages were said to have been reduced to rubble. More than 5,000 people have been injured.
"Every house is a pile of bricks and frames in our village," said a resident from Dharampur, a small town on the outskirts of Kathmandu, said.
In Kathmandu, relief workers were seen moving iron roofs and broken walls with their bare hands to reach people trapped in the debris.
Buildings and historic monuments had been reduced to piles of rubble, including in some of the country's most ancient districts such as Kathmandu's historic centre and the royal square in nearby Bhaktapur.
"We have been hearing that another 9-magnitude earthquake is going to hit," said Anuj Shrestha, who was camping with his two daughters and wife in an open space in Kathmandu.
According to Winfried Hanka, a seismologist at the German Geological Research Centre in Potsdam, near Berlin, more aftershocks should be expected.
"It will certainly continue like this for weeks or months and only slowly die down," Hanka told dpa.
In some villages, entire families were buried under the rubble of their homes, according to distress calls that people sent to local media.
"Help is not arriving. We are here in Sindupalchowk, Bhotang-2. Nine villages without food, and homeless," a woman identifying herself as Puja said.
The Nepalese government was scrambling to deal with the disaster.
Prime Minister Sushil Koirala said the country would overcome "these dark times, whatever the cost."
The Nepalese army said in a statement that 90 per cent of its personnel was taking part in rescue operation and providing security. The government has said it would award some 400 dollars to the family of each person killed in the earthquake.
The power supply has been cut indefinitely in many parts of the country due to damaged reservoirs feeding hydropower production. Water supplies have also been affected.
The Pashupati Area Development Trust, which oversees the biggest cremation ground in Nepal, said they were doing their best to manage.
In hospitals, doctors were running blood donation camps and working on "war footing."
"We don't know if there will be another quake, but what we do know is that we need to take steps now to take care of the people who were injured," said Ananta Shrestha, a physician at Kathmandu hospital.
"There are flies in places where we're treating the injured, people are living in groups and sharing limited resources, there are hygiene problems. If we do not take precaution now, we'll be facing an epidemic and that might kill more than the earthquake already has."
Rescue operations could be hampered by heavy rain, which is forecast to hit Nepal over the next two days.
Some 65 people injured in avalanches on Mount Everest were flown to Kathmandu, rescuers said. Santa Bir Lama, of the Nepal Mountaineering Association, told dpa that rescuers were trying to establish contact with 100 to 150 climbers. He refused to say they were missing.
In 1934, a magnitude-8.2 quake killed at least 10,000 in Nepal and a further 7,000 in Bihar.
A magnitude 6.7 tremor in 1988 killed 750 people.
Reporting by Pratibha Tuladhar