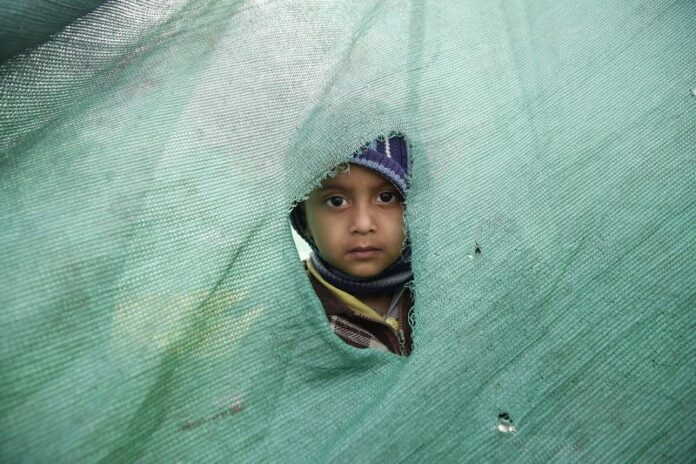 KATHMANDU (DPA) — The death toll from the 7.8-magnitude earthquake at the weekend in Nepal was upped to 2,847, the Interior Ministry said Monday.

A child looks out of a hole in a temporary tent in Kathmandu after a powerful earthquake and aftershocks struck Nepal, in Kathmandu, Nepal, 27 April 2015. EPA/NARENDRA SHRESTHA
Around 6,238 people were injured in the quake that hit on Saturday, according to the government.
Communications Minister Minendra Rizal told people not to panic over rumours and to pay attention to safety.
Chief Secretary Lilamani Poudel asked all government employees and bodies to work on a "war footing" to help the injured and the displaced.

People try to free a man from the rubble of a destroyed building after an earthquake hit Nepal, Kathmandu, Nepal, April 25, 2015.​
The Tourism Ministry said it was also focusing on rescuing the foreigners trapped around the country.
"We rescued around 82 people from the Everest Base Camp yesterday," ministry secretary Suresh Man Shrestha said.
"There are 18 dead bodies on Mount Everest but we brought down only the wounded. Hopefully there will be no more casualties."
"We are also using smaller helicopters and those from the Indian army too for rescue. We are focused on the Everest region and on Gorkha, Dhading, Nuwakot and Sindupalchowk districts."

People search for survivors stuck under the rubble of a destroyed building, after an earthquake caused serious damage in Kathmandu, Nepal, April 25, 2015.
The Nepal Army has also deployed forces.
"We have mobilized 90 per cent of our resources," military official Jagdish Chandra Pokharel said. "We're working on a war footing and we request people to do what they can to help people around them."
Prime Minister Sushil Koirala arrived back in Nepal on Sunday after cutting short a visit to Indonesia.
Authorities were struggling with limited capacity to respond to the crisis, he said.
"But we are expecting more foreign help now and now need to work on cremating people, on sanitation, on clean drinking water."
Efforts were also under way to fix phone lines and restore power on Monday, he said.
Reporting by Pratibha Tuladhar