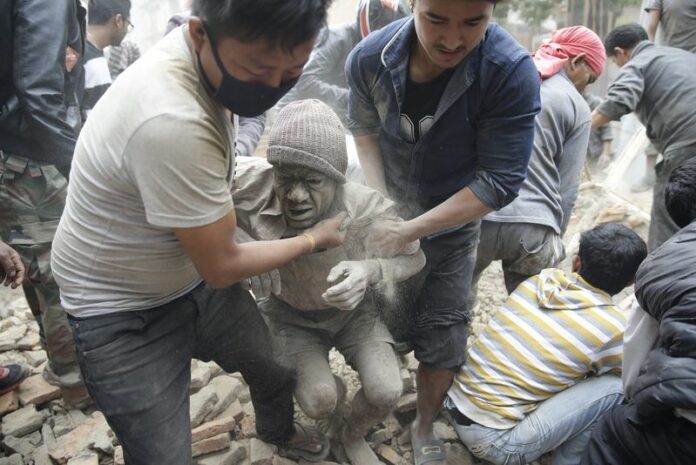 KATHMANDU (DPA) — Hundreds of people died and many more were feared buried under rubble Saturday after a 7.9-magnitude earthquake devastated Nepal's capital and provoked a deadly avalanche on Mount Everest.
The earthquake hit at 0611 GMT, with its epicentre about 80 kilometres north-west of Kathmandu, according to the United States Geological Survey (USGS).

People try to free a man from the rubble of a destroyed building after an earthquake hit Nepal, Kathmandu, Nepal, April 25, 2015.​
A spokesman for the Nepalese Interior Ministry said the provisional death toll stood at around 700 by early evening.
The tremor was the worst to hit Nepal since 1934, when a similarly powerful quake killed 17,000 people, mostly in Kathmandu. Saturday's tremor was also felt in India, China, Pakistan and Bangladesh. Over 40 deaths were reported in those countries, with most of the casualties occurring in India's eastern Bihar state, which borders Nepal.
Most of the deaths were caused by building and wall collapses.

People search for survivors stuck under the rubble of a destroyed building, after an earthquake caused serious damage in Kathmandu, Nepal, April 25, 2015.
The ancient historic centre of Kathmandu was a picture of devastation, with roads cracked wide, buildings collapsed into rubble and panicked people standing on roads as a series of aftershocks followed the quake.
"There is devastation everywhere. I saw two people get hit by bits of a falling building and die in New Road," said Yogesh Sitaula as he walked through the city. "There are fallen buildings and walls all over. People are being treated on streets. Hospitals are crammed."
The city's international airport was briefly closed as a precaution, with flights diverted to airports in India.
No commercial flights were operating from the Kathmandu airport, but Indian aircraft with relief materials and rescue equipment were landing, India's Foreign Secretary S Jaishankar said.
The main earthquake was followed by 14 aftershocks ranging from 6.6 to 5 in magnitude.
Buildings in Durbar Square, a UNESCO World Heritage site in the centre of Kathmandu, were destroyed, leaving mounds of timber and rubble, Nepal's Kantipur television reported.
Television images showed scores of injured people being treated outside hospitals in the capital.
"I saw people who were very scared but also helping each other. A lot of people are feared buried under these old houses, some of them are 100 years old," Kathmandu-based journalist Kashish Shreshtha added.
"Kathmandu Durbar Square, a historic UNESCO heritage site, has turned into a rubble. All the temples are destroyed. There was a blood donation camp ongoing at one of the heritage sites. The building collapsed and it seems everyone is dead," Shreshtha added.
The earthquake also triggered avalanches on Mount Everest, a popular destination for climbers. At least eight people were killed in one such avalanche near the Everest base camp.
"The communication is not very good up there, and the toll could still go up," Gyanendra Shrestha, a tourism official, told dpa.
"We are not certain about the nationality of those killed. Several hundred climbers were in the base camp area."
Daniel Mazur, a climber, said on Twitter that the camp had been "severely damaged."
Nepal's Prime Minister Sushil Koirala cut short his trip to Bangkok and Jakarta, where he was due to attend a meeting of Asian and African leaders on Sunday.
Reporting by Prateebha Tuladhar