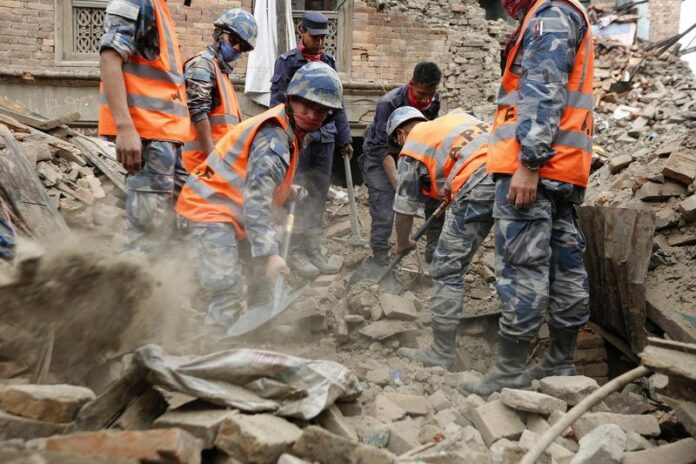 KATHMANDU (DPA) — Nepal's government declared three days of mourning Tuesday for more than 4,000 people who died in a massive earthquake at the weekend.
The government raised the death toll to 4,353 as volunteers searched for dead and missing from Saturday's quake, with nearly 8,000 injured.

People sit in front of their destroyed home in Kathmandu, Nepal, 27 April 2015. EPA/Palani Mohan/International Federation Red Cross and Red Crescent
"We were not prepared for a disaster of this scale," Interior Minister Bam Dev Gautam said. "We do not have enough resources and will need more time to reach out to everyone."
Many people in Kathmandu slept outdoors in public spaces, parks and roads. Electricity was restored in some areas, but remained intermittent.
People said rations and gas were running out, blaming the government for not doing enough to provide basic amenities.
"The food is running out in our area. Shops are hardly open and if they do people hoard and everything is gone in minutes," resident Rajendra BK said.
"We've been here on the streets, without food and water and we still haven't seen a government representative in three days," said a man camping on the roadside with his family.
The government also warned against black marketeering as people struggled to buy commodities.
Power outages have prevented people withdrawing money from banks.

Rescue team members from the Netherlands using a sniffer dog to search rubble for survivors in Kathmandu, Nepal, 27 April 2015. EPA/NARENDRA SHRESTHA
Interior spokesman Ministry Laxmi said remote villages in the hard-hit districts of Sindhupalchowk, Rasuwa, and Gorkha were still inaccessible to relief efforts.
One man staying in a makeshift tent with about 20 people said his home village Sindhukot in Sindhupalchowk district, 50 kilometres north-east of the capital, was completely devastated.
"My own uncle was killed after being buried under the house. All the cattle in the village were killed as well. Since it was accessible by road we brought the injured to Kathmandu, but the government has not send any relief efforts there."
On Mount Everest, the number killed by avalanches set off by the tremor was uncertain.
"We have brought down 14 bodies and three are to be airlifted today," police officer Bhanubhakta Nepal told dpa from the Everest region.
"We still can't say how many people died on the mountain," he said. "We rescued 205 people in total on Monday."
A spokesman for the tourism authorities said at least 20 were thought to have died on the slopes of the world's highest peak, while the Indian military put the toll at 22.
Almost all the 1,000 people who were at the base camp on Saturday had now been recovered, according to mountaineers' posts on social media.

Rescue workers dig out several houses that collapsed in the Vhaktapur district following Saturday's earthquake in Nepal. EPA/ABIR ABDULLAH
US mountaineer Alan Arnette wrote on his blog that a team would have to assess the possibility of restoring the route in time for the rest of the spring climbing season.
Across the border in China's Tibet Autonomous Region, authorities said 25 people were killed by the quake, and 117 injured, when nearly 80 per cent of houses collapsed in the three counties of Gyirong, Nyalam and Tingri.
Military and rescue personnel had been dispatched to the area to clear roads, reach any survivors and tend to those made homeless, state-run Xinhua news agency reported.
Around 20 aftershocks had been felt in Tibet since Saturday's quake, the report said. Tremors were also felt across Nepal and in neighbouring India Tuesday, Indian broadcaster NDTV said.
Reporting by Pratibha Tuladhar