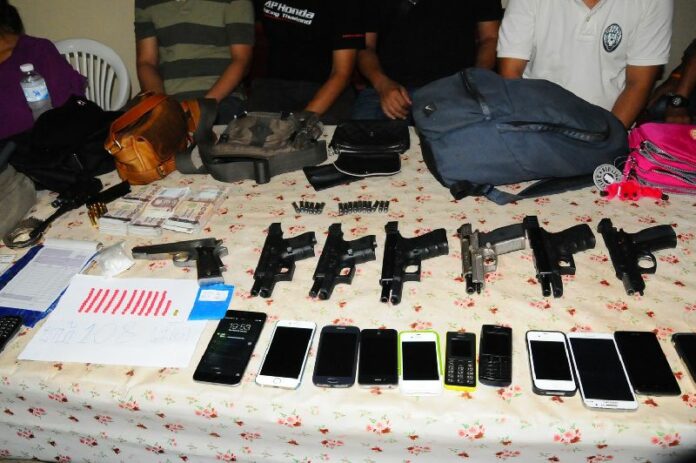 NONG KHAI — Six police officers in northeastern Thailand have been arrested and expelled from the police force for allegedly kidnapping a Laotian businesswoman and her son.
With the help of two volunteer police officers, the six men kidnapped the victims and threatened their families to pay 2 million baht in ransom money, said Pol.Maj.Gen. Churat Pan-ngao, commander of Nong Khai Police.
According to Pol.Maj.Gen. Churat, the eight men approached the 55-year-old businesswoman, named Buachan Tantakaew, and her 14-year-old son while they were shopping at a mall in Nong Khai on 25 April. The officers then forced a bag into Buachan's hand and said she and her son were under arrest for possessing narcotics, Pol.Maj.Gen. Churat said.
The group then reportedly brought Buachan and her son to a hotel and took photos of them with the bag of amphetamines. The officers told the victims their family had to pay 2 million baht in ransom money or else they would be prosecuted for the narcotics possession, Pol.Maj.Gen. Churat told reporters yesterday.
Instead, Buachan's husband alerted police in Nong Khai province. Pol.Maj.Gen. Churat said police tricked the men into arranging a venue for the ransom exchange, and arrested all of the suspects at the site.
The suspects are identified as Police Captain Surapat Pensri, Police Lieutenant Peerapong Tripong, Police Sub-Lieutenant Somdej Sukrom, Police Senior Sergeant Major Chainarong Orndee, Police Senior Sergeant Major Wirat Tanuchon, Police Senior Sergeant Major Pakorn Sukprasert, Thawat Thipsupha, and Tee Artsuwan.
Police also confiscated seven handguns, one shotgun, 108 amphetamine tablets, and one packet of crystal methamphetamine from the officers.
The leader of the group, Pol.Capt. Surapat, has denied the allegations and told police his team was expanding an investigation into a drug arrest.
All of the arrested police officers are from Udon Thani police force, said Pol.Maj.Gen. Boonlert Chaipradit, commander of Fourth Region Police. He added that a special committee has been set up to handle the investigation and ensure impartiality.
"I have already informed the commander of the Royal Thai Police about this. He has instructed me to proceed with the case strictly in accordance with the laws," Pol.Maj.Gen. Boonlert said, "Previously, there were reports that this group of Udon Thani police officers have been behaving badly. Now, this incident happened. They are police, yet they end up breaking the laws."
Pol.Maj.Gen. Boonlert said the six officers have been fired.
All of the eight suspects have been charged with collecting bribes, illegal detention, kidnapping individuals under 14 for ransom, possessing firearm and ammunition without permit, carrying firearms into residential areas without due cause, possessing Category 1 narcotics with an intention to sell, and possessing Category 1 narcotics.