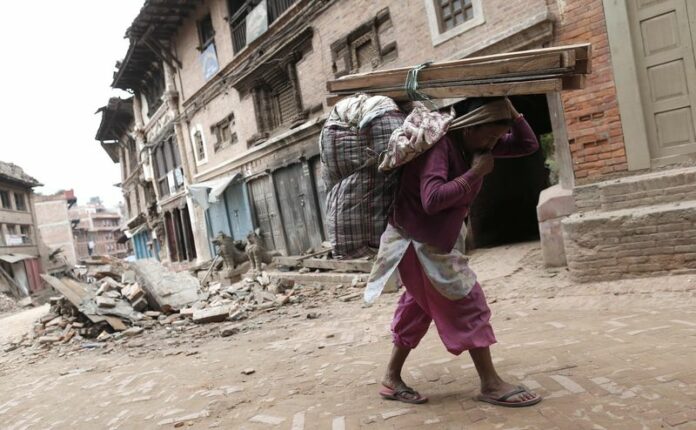 KATHMANDU (DPA) — The official death toll from the earthquake in Nepal reached 4,731 Wednesday, with 1,448 of the fatalities recorded in the capital Kathmandu.
More movement was visible on the streets as people who had spent days in terror since Saturday's 7.8-magnitude earthquake struck ventured out, to buy essentials or to go to work despite the fear provoked by numerous aftershocks.

Women cover their faces as they watch rescue work at a collapsed building after the 25 April earthquake, in Shaku, Nepal, 28 April 2015. The official death toll in Nepal from the magnitude-7.8 earthquake at the weekend continues to rise. EPA/ABIR ABDULLAH
"We need to stock up food and buy other stuff now, just to be prepared," said Chejum Gurung, who was also taking care of six children in a Kathmandu neighbourhood, camping in her yard.
"I keep feeling like the ground is shaking still. Or maybe it's just my legs."
People waited hungry and cold for help to arrive, as they complained that assistance from the authorities had not reached them.
"We have limited resources and equipment, but we are learning from our weaknesses, and trying our best to speed up the rescue mission," Prime Minister Sushil Koirala said.
But people did not appear convinced by government's assurances and were leaving the capital, which has suffered massive casualties and destruction.
"We are leaving today for the Terai region, where we plan to remain until things get a bit better," said Chandra Shekhar Jaiswal, a resident of Maharajganj. "There is going to be a shortage of food and facilities here, so it's better to leave now."
But there were hundreds who will be forced to remain on the streets in Kathmandu, until they can find shelter.
"My son ran out just in time before our house went down. Two hundred and fifty houses in our neighbourhood are just piles of bricks or leaning against each other, ready to collapse any time," said Babu Raja, a resident of Dharmasthali district in Kathmandu.
"My family survived this. But it's a strange feeling knowing that you don't have a house to return to at the end of the day."
More than 15 countries were involved in the rescue and relief efforts.
"We have been coordinating with the government to distribute aid," said Ram Babu Shah, United Nations national information coordinator in Nepal.
"We are also trying to work in coordination with the other aid agencies that have arrived in Nepal to provide relief and rescue."
The government said it would enter the reconstruction phase soon after taking care of the quake victims, and that the heritage sites that had been destroyed would be rebuilt in phases.
Reporting by Pratibha Tuladhar