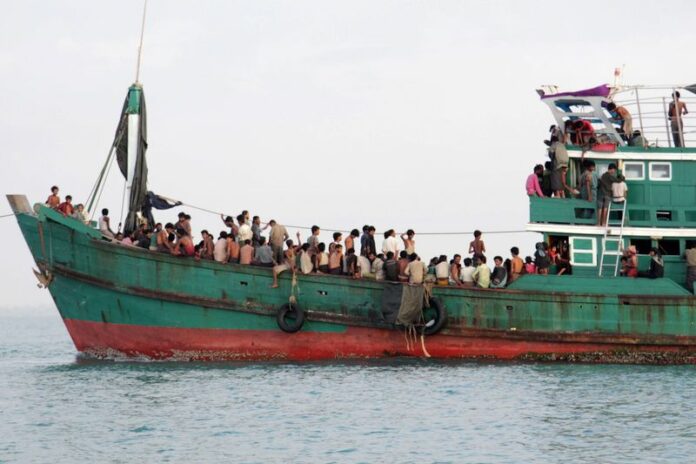 YANGON (DPA) — The Myanmar navy rescued a boat carrying 219 migrants, most from Bangladesh, the government said on Friday, as international attention was focused on thousands of Rohingya and Bangladeshi migrants adrift in South-East Asian waters.
The rescue occurred as Yangon vowed to give full cooperation in stopping the flow of thousands of boat people, mostly Muslim Rohingya, to other South-East Asian countries.
Myanmar had been reluctant to join regional efforts to tackle the migrant crisis, and did not send a delegation to a key meeting in Malaysia on Wednesday, although officials have said a delegation will go to a regional conference in Bangkok next week.
Malaysia's Foreign Minister Anifah Aman on Thursday visited Yangon and met his Myanmar counterpart U Wunna Maung Lwin.
"Myanmar is ready to provide full cooperation to Malaysia … in solving the conflict in Rakhine State, as well as the humanitarian crisis over immigrants in the Bay of Bengal and the Andaman Sea," the Malaysian foreign ministry said in a statement late Thursday.
Myanmar's foreign minister reportedly told Anifah that Yangon was concerned about the situation and would continue to implement programmes of economic and social development in its troubled western region.
Malaysia, the current chair of the 10-country Association of South-East Asian Nations, has spearheaded efforts to resolve the Rohingya problem. The issue came to a head as boats crammed with hundreds of illegal migrants and refugees were blocked from coming ashore and in some cases towed back out to sea.
On Wednesday, Malaysia and Indonesia agreed to allow Rohingya and Bangladeshi boat people to land on their shores provided they would be resettled in a third country within a year.
The Rohingya say they suffer discrimination in Myanmar, which does not recognize them as citizens, and considers them illegal Bengali immigrants.
In another development, a top US diplomat has urged Myanmar to ease some restrictions on the Rohingya.
"These people are risking their lives at sea because they have been living in hopeless conditions for a long time. Myanmar needs to create better conditions by easing restrictions on access to education and freedom of movement," said US Deputy Secretary of State Antony Blinken, who met Myanmar President Thein Sein in the capital Naypyitaw on Thursday.
The US has been urging regional countries to cooperate on search and rescue operations and on sheltering the refugees and migrants.