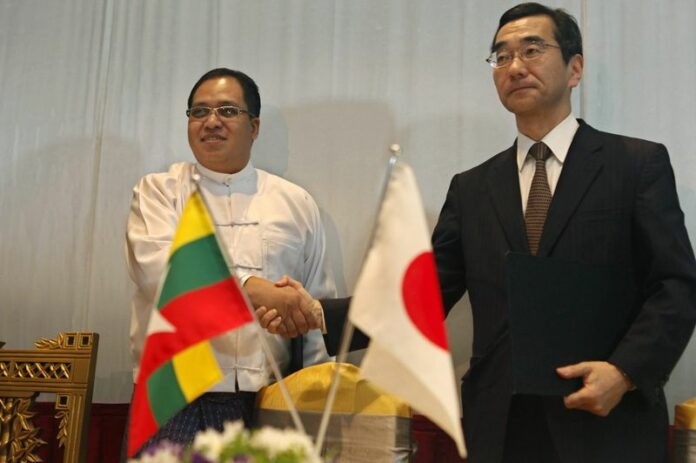 TOKYO (DPA) — Kyoko Okutani made her fourth trip to Myanmar in early June to explore more business opportunities in the South-East Asian country, this time inviting designers from Japan.
Okutani, the head of Women's World Banking Japan, said she is enchanted by Myanmar.
"Myanmar has untapped potential and a distinctive culture such as hand-woven textiles," said Okutani, an author of several books who has helped more than 1,000 women launch their own enterprises in Japan.
Okutani and the designers visited Myitkyina in northern Myanmar, and Nyaungshwe and Mandalay in the central part of the country. The highlight of their trip was to travel to Lake Inle to meet artisans and see lotus fabric, which is considered to be more precious than silk, she said.
Like Okutani's group, more Japanese businesses have been seeking a foothold in Myanmar since the country's liberalising reforms under President Thein Sein.
The Japanese government has wasted no time boosting its economic clout. On Saturday, Prime Minister Shinzo Abe pledged nearly 100 billion yen (813 million dollars) in low-interest loans to Myanmar to help develop infrastructure in a meeting with the president, which was held on the sidelines of the Mekong-Japan summit.
In 2012, Japan also decided to waive 3.7 billion dollars of old debt and resume full financial aid for the first time in 25 years.
The number of Japanese visitors who arrived at Yangon Airport tripled from 21,264 in 2011 to 66,187 in 2013, the second highest number after Thailand, according to the Japan External Trade Organization, which supports Japanese businesses abroad.
Most of them flew to the country on business, said Masaki Takahara, executive managing director of the organization's Yangon office.
The Japan Chamber of Commerce in Yangon saw its membership grow fourfold in the past three years to 205 companies as of December 2014.
Japanese investment, however, accounted for less than 1 per cent of a total amount of foreign investment in Myanmar from 1989 to October 2014, Jetro said, citing the country's government data. China was responsible for 29 per cent, Thailand for 20 per cent and Singapore for 14 per cent.
Myanmar has a range of problems that are barriers to investors.
"The biggest problem is shortage of electricity. They often suffer from power outages," Takahara said.
Another major problem is the vulnerability of the country's infrastructure such as roads, railways, communications, water supply and sewage systems.
So far, the number of existing Japanese manufacturers is only 10, most of which operate garment factories, Takahara said.
Daieikiseifuku Corp of Nagoya, central Japan, opened a clothing factory in Myanmar as early as in 2002 "to diversify risk and cut costs," said the company whose other overseas plant is in China.
In 2007, the company started to produce 21,000 business suits a month in Myanmar with 1,150 local employees, it said.
Many Japanese companies that have already launched businesses in the newly emerging economy are in the service sector, such as logistics and construction companies, law firms, accounting offices and consulting businesses, Takahara said.
In addition, in Yangon alone, there are 80 to 100 Japanese restaurants and seven free Japanese-language newspapers, the organization said.
That is because they expect an increasing number of Japanese companies to start doing business in the country, Takahara said.
In fact, when the Thilawa special industrial zone, 23 kilometres south-east of Yangon, is opened in the summer, 21 of the 40 companies that have taken units there will be Japanese, the trade group said.
Japanese firms can find several advantages in Myanmar such as rich natural resources and the cheapest labour in the region.
Myanmar also shares borders with China and India, two of the world's largest markets.
Myanmar is a "safe place," Takahara said. "There is also a friendly feeling toward Japan," despite Japan's brutal occupation of the country during World War II.
"You will also find more English-speaking people" in Myanmar, Okutani said.
In Japan, more seminars and conferences on business opportunities in Myanmar have been held not only in Tokyo but also outlying regions as a variety of companies are considering business opportunities there.
More Japanese companies "show growing interest" in Myanmar, said Keiji Kubo, an official at the government's Shikoku bureau of Economy, Trade and Industry in Takamatsu on the south-western island of Shikoku.
Kubo's office has held three seminars on Myanmar in the last two years and is planning the fourth soon.
Okutani said her group has already planned to launch a food-processing plant in Myitkyina.
"We're also considering the creation of products with local fabrics."
(Reporting by Takehiko Kambayashi)