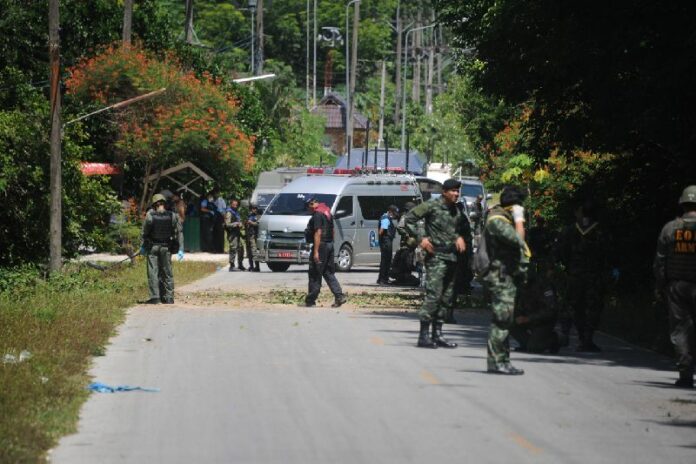 NARATHIWAT — Two Muslim men who were returning home from a mosque in the southern border province of Narathiwat last night were shot and wounded by gunmen on a motorcycle, police told reporters today.
The two men were flanked by the assailants while they were riding a motorcycle home from Lubobatu mosque at around 11pm, said Pol.Maj. Naret Pumkaew, an investigative officer at Ra-Ngae Police Station.
The men, aged 36 and 48, are being treated at hospital and are still in "critical condition," he said. Police have collected several bullet cases from the crime scene for investigation.
Pol.Maj. Naret told reporters he believes the attack was "committed by groups who want to cause unrest" in the region, a state euphemism for the shadowy Islamic militants that stage regular attacks in the southern border provinces of Narathiwat, Yala, and Pattani.
Most of the near-daily shootings and bombings are directed at soldiers and police in the region, which has been under martial law for more than nine years. Public schools and teachers are also frequently targeted.
More than 6,200 people have died in the decade-long insurgency, which aims to secede the Muslim-majority region, known colloquially as the Deep South, and create a breakaway Islamic nation.
Although the insurgency is waged by several Islamic militant networks, some pro-state, Buddhist vigilante groups are also known to operate in the area.
Over the weekend, a roadside bomb exploded while a convoy of military officers were passing by in Narathiwat province. No one was injured in the blast, police said.
Pol.Col. Reungsak Baudang, commander of Rue So Police Station, said security officers later found two more bombs on the side of the road while sweeping the area for evidence. The two bombs were eventually defused, Pol.Col. Reungsak said.
The officer said he believes the bombs were placed by insurgents who intended to wound or kill the soldiers.