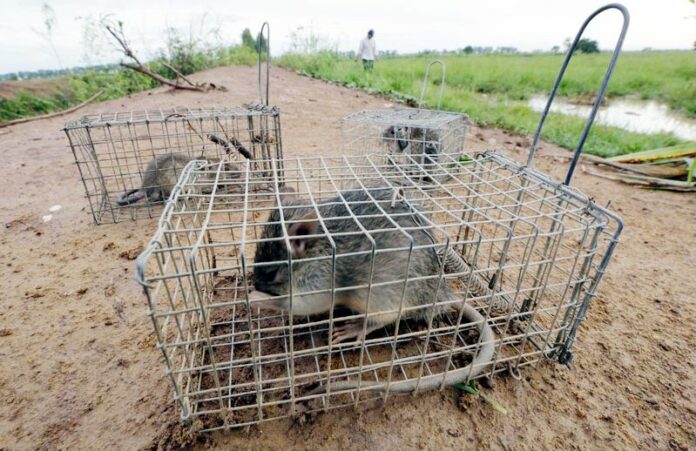 By Erin Hale and Bac Pham, DPA
PHNOM PEHN (DPA) – It's midday in a Chong Ksach, a small Cambodian farming village an hour outside Phnom Penh, and Yem Chan is loading flat wire crates of live rats on to the back of his motorbike.
The stressed rats squirm in their cages, hiss, and urinate through the bars, but Yem Chan looks unperturbed as he prepares his cargo for export to Vietnam, three-and-a-half hours away.
The smell is terrible, but for 28-year-old Yem Chan these rats are gourmet gold. In Vietnam, barbecued rat meat from Cambodia's rice fields has become a popular snack for its bacon-like taste and organic credentials.
Business is good, as shown when several other traders on motorbikes laden with rat crates zip through the village as Yem Chan prepares his bike.
On this particular day, Yem Chan's workers have caught 90 kilos of rats from traps laid across the nearby rice fields. Each wire cage is large enough for one rat, with a door at one end that springs shut behind the curious animal, before it is transferred to a communal cage for the motorbike journey.
The captives range from small fluffy ones resembling gerbils, to big black rats the size of kittens.
It's believed in Cambodia and Vietnam that such meat can be safer than other varieties, according to Yem Chan, because it "does not contain any chemicals," he says. Field rats just eat "rice, corn, or crab."
Traders like Yem Chan send thousands of rice-field rats over the border each day to feed demand for rat meat, which started to become popular 15 years ago.
Rat meat is so popular in parts of Vietnam, particularly the Mekong Delta, that it has started to feature on travel blogs, including Trip Advisor, where baffled foreign visitors upload photos.
"Yah, that's skinned field rat meat next to the eels! Oh, my," one visitor posted on Trip Advisor alongside a photo of rat carcasses for sale, after visiting a market in the popular colonial town of Sa Dec.
In northern Vietnam, local rats are still plentiful enough to satisfy local demand, and clean enough to meet the exacting standards of rat catcher and restauranteur Nguyen Van Khau, 50.
"Rat meat is very organic and chemical free," he said from Tan Phong, a 5,000-strong community 80 kilometres from Hanoi. "That is why it is more expensive than chicken or rabbit meat.
"It is very popular in my village. Everyone in my village eats rat meat, even children favour it."
One customer agrees. "I love rat meat very much because it smells tasty, free of chemicals," says Do Van Chien, 28. "In my country town, rat meat is considered a delicacy. We like to entertain guests with it."
Catching rats from his village's rice fields and serving them at his restaurant and cooked up at market stalls, Khau says he can earn up to 22 million dong (around 1,000 dollars) over the peak rat season in October and November each year.
In Cambodia, Yem Chan finds the local demand around Phnom Penh to be less lucrative, so heads straight over the border to rural southern Vietnam.
If he makes the trip every day, Yem Chan and his business partner can earn 1 million to 2 million riel (245-485 dollars) per month.
It's less than Khau makes in Vietnam, but back in his village in Cambodia it is a significant income.
Not all of Yem Chan's rats are sent to Vietnam; some stay behind to be eaten by the locals.
But in Cambodia, rat meat is not a delicacy, and is more typically eaten by people who cannot afford chicken or pork.
Those that are kept behind, Yem Chan kills by hitting their head against the ground, then hands them to a local woman who skins them with a large knife and barbecues them over an open flame for 45 minutes.
Served with a sweet and sour dipping sauce, the rat meat – barbecued beyond recognition – has a chewy and stringy texture, and turns out to taste surprisingly like bacon.
"Our Khmer people have been eating rats since their existence," Yem Chan says.
"When we eat it, we feel as one with wildlife creatures," he says. "It's delicious."
To reach us about this article or another matter, please contact us by e-mail at: [email protected].