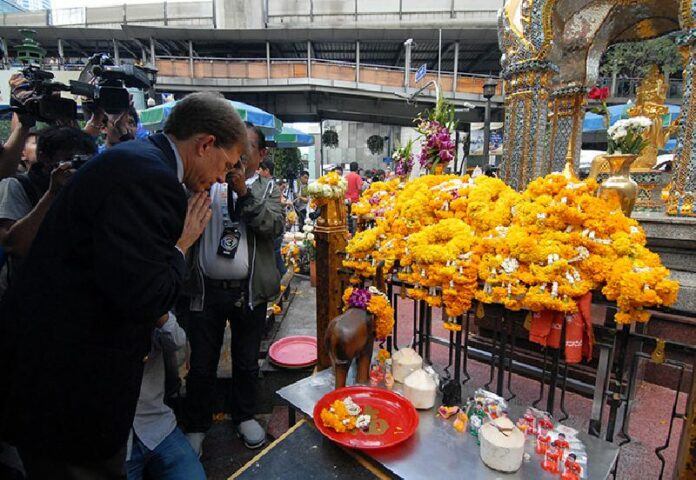 BANGKOK — While the search continues for the prime suspect in Monday's terror attack, police have added three more unidentified suspects to their hunt and, three days into the investigation, reached out today for international help.
Three days after the Erawan Shrine bombing killed 20 people in downtown Bangkok, the widening investigation has failed to locate or identify any suspects, prompting police to request aid from Interpol in tracking down members of a network they now say includes no fewer than 10 people.
Deputy national police spokesman Kissana Phathancharoen confirmed to Reuters they formally requested help from Interpol.
---
Bangkok Shrine Bombing: Those Who Died
---
That comes as investigators said three more people are being sought who are seen in widely circulated video taken before the attack.
In the pre-attack footage which went public Tuesday, one man wearing a red T-shirt can be seen standing up from a bench upon the arrival of the suspected bomber, wearing a yellow T-shirt, who immediately takes his seat and removes his backpack.
"When the yellow shirt man walked to the shrine, the red shirt man stood up, emptying the bench, and the yellow shirt man sat there instead," police spokesman Prawuth Thawornsiri told reporters. "At the same time, the red shirt man and the white shirt man stood in an angle that looks like giving cover to the yellow shirt man as he puts down his backpack. After that, the red shirt man and the white shirt man left the crime scene."
The bomb went off minutes later killing at least 20 people and injuring more than 150. Many tourists were among the casualties.
Outgoing police chief Somyot Pumpanmuang said it could not be determined from the grainy footage whether the two men were Thai or foreign nationals but announced that at least 10 people are thought to be involved in the attack.
"It is a network, no less than 10 people. I believe they have spent months planning and scouting routes before the attack," he said. "I am confident that Thai people are involved, because based on our investigation, I believe the perpetrators know the escape routes very well."
That leaves investigators with three men with apparently little more than vague descriptions.
"Right now police are searching for the red shirt man and the white shirt man, to see whether they belong to the same network with the yellow shirt man."
This afternoon, Prawuth added a third suspect, a woman in a black T-shirt they believe might have been helping the men to plant the bomb.
"These three have suspicious behaviors, he said. "They gave up the seat and shielded the perpetrator as he laid down the backpack."
No arrest warrant will be issued at this time for the three, however.
"We only suspect them," he said. "We need to interrogate them."
Authorities seem less certain that a second attack on Tuesday at a river pier frequented by tourists was carried out by the same attackers.
"The bombs have similarities, but we have to investigate further," Somyot said.
No one has claimed responsibility for either attack. Thai media has drummed up considerable speculation about the involvement of specific foreign groups, but no evidence has emerged to support those allegations.
"I cannot yet pinpoint which group the perpetrators belong to," Somyot said. "As for the motive, we have not ruled out any possibility. … However, we are confident the perpetrators are still in Thailand."
The yellow shirt man seen in the video and a composite sketched released yesterday appeared to many Thais to be a foreigner. Two foreign men have been questioned in the case, seemingly because they had spiky hair similar to that of the suspect.
"I cannot say what nationality the yellow shirt man is, but based on his appearance, he seems like a foreigner, or a half-blood," Prawuth said at yesterday's press conference.
But junta chairman and Prime Minister Prayuth Chan-ocha told reporters it is too premature to say whether the suspect was a foreigner.
"We have not concluded that. We have not ruled on that," Gen. Prayuth said when a reporter asked if he thinks the composite sketch looks like a 'Westerner.'
"Why are you assuming things so quickly?" the general quipped.
The court has issued only one arrest warrant in connection to the Erawan Shrine bombing so far, charging the unnamed yellow shirt man with premeditated murder and other explosives-related charges.
Related stories:
1M Baht Bounty for Bangkok Bomb Suspect
Police Widen Hunt for Bombing 'Network'
Bangkok Shrine Bombing: Those Who Died
Day in Photos: Expressions of Grief, Unity After Terror Attacks
Briton Dies in Bangkok Shrine Bombing
Despite Lack of Evidence, Thai Media Points Blame at Uighurs
Tourists Narrowly Escape Second Bangkok Bombing in 24 Hours
Bangkok Shrine Bombing: Police Hunt Backpack Man
Tourists Among 19 Killed by Bomb at Bangkok's Erawan Shrine
To reach us about this article or another matter, please contact us by e-mail at: [email protected].