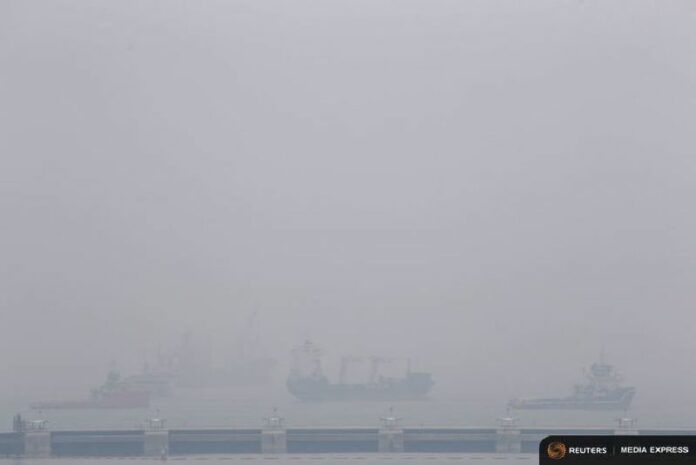 JAKARTA — Indonesia on Thursday asked several countries including China, Singapore, Russia and Japan for help to put out fires that have sent choking smoke drifting across the region for weeks.
Indonesia had repeatedly declined offers of outside help to tackle the smoke, which is mostly caused by companies using fire to clear land for palm oil and pulp wood plantations on Sumatra island and its part of Borneo island.
"We have asked for help," President Joko Widodo said in a statement, adding that Indonesia was hoping for at least three aircraft from Singapore and Russia to help douse the fires that often smolder underground for weeks in peat deposits.
"What we need now are planes that can carry 12-15 tons of water, not like the 2-3 tons we have now," Widodo said. "We hope this will speed up the process because fires on peat land is different from regular forest fires."
A portion of the front page of Jakarta-based newspaper Republika, which covered its front page Thursday with smoke.
Indonesia was also in talks with Australia and Malaysia about how they might help, said foreign ministry spokesman Armanatha Nasir.
"We have been using all our resources but what we see is our progress is not quick enough," Nasir told Reuters, adding that Indonesia was exploring what roles the countries could play and what equipment they could provide.
They aimed to finalize details "as soon as possible," he said.
Indonesian officials did not elaborate on why the government had now decided to seek foreign help. It had faced criticism for turning down offers from Singapore.
The smoke has pushed up pollution to dangerous levels across parts of Indonesia, Malaysia, Singapore and southern Thailand, disrupted flights and closed schools on bad days.
Tourism operators are fretting and health authorities across the region have warned people to avoid exercise when the smoke is heavy.
Indonesia routinely brushes off complaints while vowing to act to stop the burning. But year after year, the problem flares in the dry season.
It has been exacerbated this year by the El Nino weather phenomenon which has brought unusually dry conditions.
Indonesia's national disaster management agency said last week it was hoping for rain to help douse the fires by early November, when the northeast monsoon usually starts.
Foreign Minister Retno Marsudi is expected to meet her Malaysian counterpart on Friday to discuss the problem.
Singapore's foreign minister, Vivian Balakrishnan, said on his Facebook page the city-state had offered personnel, aircraft, and satellite imaging.
Story: Reuters / Gayatri Suroyo and Kanupriya Kapoor
To reach us about this article or another matter, please contact us by e-mail at: [email protected].