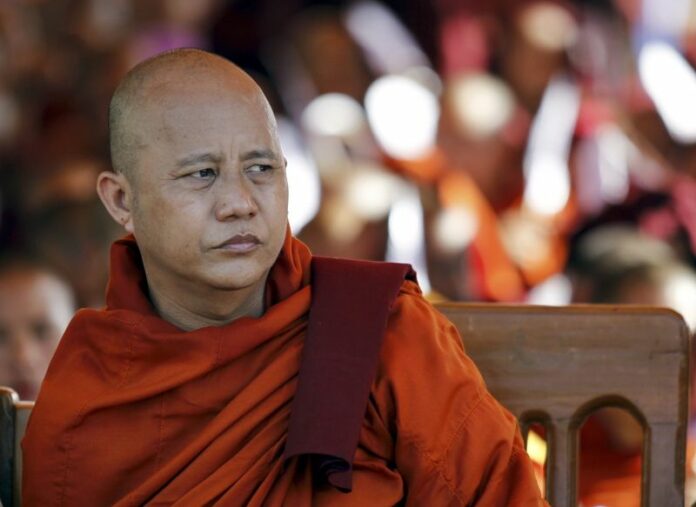 YANGON — At least once a week in the offices of a weekly newspaper in Yangon, editors engage in a spirited debate about the future of Buddhism in Myanmar.
They always intend to discuss it peacefully, but it often turns into a heated altercation between supporters and opponents of the Committee for the Protection of Nationality and Religion – a hardline Buddhist group led by radical monks.
"I can't understand why some people don't like Ma Ba Tha, which is working just to protect Buddhism here. They are not attacking Muslims or followers of other religions," said 30-year-old designer Zaw Win Maung, using the organization's Burmese acronym. He also works as a volunteer for the group.
"We must protect our religion and country from Islamization with new religious laws," he said.
The organization grew out of an earlier movement known as 969, led by intolerant monks to boycott Muslim-owned businesses and services.
With millions of supporters across Buddhist-majority Myanmar, Ma Ba Tha pressured the government to enact a package of controversial religious laws in July that forbid interfaith marriages, prohibit Buddhist women from changing their religion, restrict the number of children that designated groups can bear, and outlaw polygamy.
The organization now seems poised to became a mainstream political force ahead of the general elections scheduled for Nov. 8.
"We just want to see more and more parliamentarians who work hard to protect Buddhism," said Wirathu, a flamboyant monk who founded the movement, and who is leading door-to-door lobbying campaigns.
Ma Ba Tha's voter education program is different from others.
"We just want parliamentarians who are interested in protecting race and religion no matter what," Wirathu said. "We remind the public to choose candidates wisely."
Ma Ba Tha urges voters to favor avowedly Buddhist candidates who pledge to uphold and protect the new religious laws. They also must support the 1982 Citizenship Act, which openly discriminates against ethnic minority Rohingya Muslims.
Although the 2008 constitution drafted by the former military junta prohibits the use of religion in politics, hardline monks of Ma Ba Tha insist that it should depend on the situation.
"We don't want a party that doesn't care about race and religion to take power," Wirathu said.
"I fully support President Thein Sein for a second term, as he supports us to protect our race and religion," he said.
Wirathu, 46, relishes his notoriety and actively courts controversy. He regularly uses uncharacteristically vulgar speech for a monk, and served eight years in prison for inciting religious violence before being released in 2011 under a general amnesty.
He has been called a "Buddhist bin Laden," but prefers to compare himself to James Bond.
In celebrations across the country for the enactment of the race and religious protection laws, leading Ma Ba Tha monks warned supporters to vote for the army-dominated Union Solidarity and Development Party (USDP) currently in power.
They also accused the main opposition of failing to protect the religious majority.
Leaflets were distributed, proclaiming: "If the NLD (National League for Democracy) wins the election and leads the cabinet, Buddhism will disappear shortly."
But not all Buddhist monks support the anti-NLD and anti-Muslim sentiment.
Last month, two monasteries in Mandalay, the nation's second-largest city, publicly denounced the Ma Ba Tha movement and said that monk Wirathu does not represent the monasteries, even though he is a senior figure in the Mandalay monkhood.
Other Buddhist associations including government-backed State Sangha Maha Nayaka Committee, the country's highest religious authority, have never voiced their support for the radical organization.
"Ma Ba Tha monks should carefully think about the impact of what they are doing in society, especially on the ethnic minorities that follow different religions. Our society has already split up because of civil war," said well-known Buddhist monk Pyinna Thiha.
"Nationalism makes society split deeper. It even divides monk associations, especially between Ma Ba Tha monks and pro-democracy monks," he said.
Meanwhile, the USDP and its allies have campaigned on the importance of safeguarding race and religion.
"Don't listen to someone who married a Kalar (South Asian), Hindu, Muslim, Negro or English and then says how much she loves her country," Agriculture Minister Myint Hlaing said on the campaign trail earlier this month.
His remarks were widely regarded as a smear against popular opposition leader Aung San Suu Kyi, who married a British citizen.
The minister also warned that Myanmar would be turned into a Muslim country if the NLD wins the election.
"They don't care about you. They will not protect Buddhism as the party is full of Muslims," he said, according to the Myanmar Times.
Suu Kyi, in an interview with India Today TV channel, expressed concern over the increasing anti-Muslim sentiment and the use of religion for political ends, calling them "very worrying signs of religious intolerance which we did not have in this country before."
Even her own party excluded more than a dozen Muslim candidates from the NLD's list for November in order to placate Buddhist hardliners.
"Ma Ba Tha is creating a worse epidemic for the country," said Pyinna Thiha. "Unfortunately, no one seems to be able to stop them."
Story: DPA / Kyaw Lynn