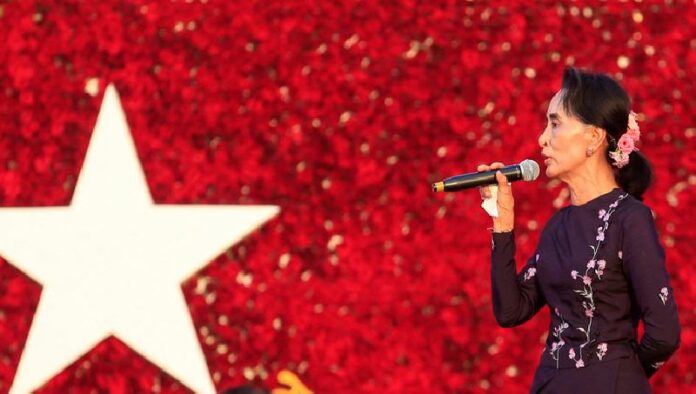 YANGON — More than 50,000 people joined an opposition rally led by Aung San Suu Kyi on Sunday in Myanmar, one week before the first openly contested poll in decades.
"I want to tell you again to vote for us if you want to see real changes in the country," she told supporters at the rally in eastern Yangon.
"I have no fear at all to face or fight anyone as long as you support me."
The November 8 election will be the first time since 1990 that Suu Kyi's National League for Democracy party has contested elections.
While Suu Kyi is constitutionally barred from holding the office of the presidency, observers say that her presence has rallied numerous supporters.
On Sunday, roads leading to the rally ground were full of vehicles blasting campaign music and slogans.
Thousands more walked to the parade ground on foot creating a sea of red shirts, the colour of the NLD party. Many of the shirts were emblazoned with the campaign slogan "Vote NLD for Real Change."
"I want to see her lead our country, as I believe she is the best leader for the country," 16-year-old student Sandar Tun said.
The NLD's main rival, the army-backed Union and Solidarity Party, has said that it is confident, openly declaring that it expected to win a majority of seats.
Suu Kyi's party won the last openly contested poll in 1990, taking 392 of 492 seats. However the army disqualified the results and placed Suu Kyi under house arrest.
On Sunday in New York, UN General Secretary Ban Ki-moon expressed "deep concern at the continuous resort to hate speech, the incitement of communal animosities and the abuse of religion for political purposes resorted to by extreme elements among the majority community in Myanmar."
On Thursday, Yanghee Lee, UN special rapporteur on human rights in Myanmar, warned that the country might face "instability and tensions," if the government fails to ensure that the November 8 elections are accepted as legitimate and credible.
In her latest yearly report, Lee found that many Muslim candidates had been barred from running for office based on questions about their citizenship and hundreds of thousands of minorities, including the Muslim Rohingya, might not be able to exercise their right to vote.
On Sunday, Ban specifically deplored "vulgar remarks recently directed, not for the first time" against Lee and said he had written to President U Thein Sein expressing "full confidence in and support for the important work being done by Special Rapporteur Yanghee Lee."
Story: DPA