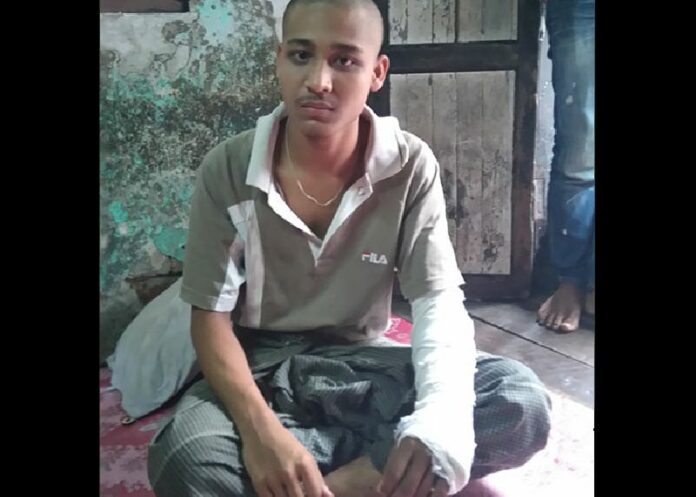 Unexplained attacks on members of different religious communities in Mawlamyine are seen as attempts to foment inter-communal tensions ahead of the Nov. 8 elections.
MAWLAMYINE, Myanmar — Several unexplained night-time attacks on members of different religious communities in Mawlamyine have put the Mon State capital on edge in recent weeks. Community leaders fear the attacks are attempts to foment intercommunal tensions here in the run up to Myanmar's Nov. 8 polls.
One victim, Paung Paung, a Hindu resident in his early 20s, said he and his two brothers had watched a football game at a teashop on Sept. 26 and were walking home on the city's Strand Road when some men suddenly assaulted them.
"They called us 'Kalar sons of bitches' and beat us. We said we are Hindus and not Muslims, but they wouldn't listen," he told Myanmar Now, using a Burmese derogatory term for people of South Asian descent. He ended up with a large gash on his head that required 20 stitches.
"These are not ordinary local gangs that sometimes fight on Strand Road; they seemed well-organised," Paung Paung said.
On the same night, Nyein Htwe , a 25-year-old Muslim from Yangon who was visiting family in Mawlamyine, drove past Zegyo Market with a friend when their way was blocked by a motorbike.
"Then, some 20 men on 10 motorbikes attacked us from behind with swords, nunchucks and iron pipes while swearing at us. I had never seen them before," he recounted. He was beaten unconscious but heard the attackers tell his Buddhist friends who were driving behind him: "Keep away if you're Buddhists; we only beat up Kalars." Nyein Htwe is recovering from a broken hand, while his friend sustained head injuries.
Simmering tension between Myanmar's majority Buddhists and minority Muslims have been heightened during the election campaign. Critics say some political parties have openly courted the radical, Buddhist monk-led Ma Ba Tha movement in an attempt to win votes.
'A Group is Trying to Provoke Communal Conflict'
It is not only those appearing of South Asian descent who have come under attack. Early in October, an unknown group of men fought with a group of around 10 students who were drinking at night along the Thanlwin River, which runs through Mawlamyine.
Min Han Talamon, chairman of the Mawlamyine University student union, visited a hospitalised victim. "These people threw stones at the youths, provoking them. When a fight ensued, about 30 more people arrived, wielding nunchucks, sticks and swords. They then left on motorcycles," he said.
"A Muslim was beaten up on Eid (festival). Then the next day, Buddhists were attacked. So Muslim and Buddhist residents in the city suspect that a group is trying to provoke communal conflicts," he said.
Zin Myo, a local musician, was beaten up on Oct. 22 in a separate incident by an attacker who was apprehended by local residents. "At the ward administration office he said he thought I was a Kalar, and that's why he beat me. He also asked to phone someone from Ma Ba Tha, but he did not say that when we were at the police station," said Zin Myo, who is of mixed Burmese and Indian descent.
Aung Ko Ko, Programme Director the Centre of Youth and Social Harmony, a local interfaith organisation, said: "These are systematic actions. There are suspicions that some wealthy and influential people may be supporting these groups."
A Ma Ba Tha Center In A Diverse City
Mawlamyine, a city of some 300,000 residents, has long had an ethnically and religiously mixed population. The old colonial-era town centre is home to a large population of Muslims and Hindus, who live alongside Buddhist Burmese and ethnic Mon majority.
The town is also a stronghold of the nationalist Buddhist Ma Ba Tha movement and monasteries that are home to some leading firebrand monks such as Vimala Buddhi, Ma Ba Tha's general secretary.
The groups have been fanning anti-Muslim sentiment and are openly supportive of the ruling party during the current election campaign.
Since 2012, parts of western and central Myanmar have experienced bouts of communal violence between Buddhists and the Muslim minority, which represents around 5 percent of the country's 51 million population. Thousands of people, mainly Muslims, were displaced by the violence.  
Mawlamyine, despite the presence of Buddhist radicals, has avoided unrest so far, but Ma Ba Tha monks have become increasingly vocal, while some political parties have courted them for support, heightening sectarian tensions.
In recent weeks, Ma Ba Tha held a large rally in the city to celebrate passage of the four 'Race and Religion Protection' laws. Local members of the ruling Union Solidarity and Development Party attended the event.
On Oct. 12, the National Development Party – a new, well-funded party of former presidential advisor Nay Zin Latt – held a campaign rally in the city with dozens of radical monks in attendance. His speech echoed their message and called for "safeguarding and protecting our race and religion."
Communal Leaders Maintain Harmony
In previous instances of communal violence in Myanmar, authorities have been accused of doing too little to prevent outbreaks of unrest.
Paung Paung said he tried to file a complaint over the attack on him at Mawlamyine Police Station, but officers refused to accept it. "Police were on duty that day. Why did they refuse my complaint? Did they know in advance an attack was going to happen?" he asked.
An officer in-charge at the station, who declined to be named, said authorities were taking appropriate measures to deal with the incidents.
"We have got some sort of information and are taking security measures to prevent communal violence," he said, while denying that the police had refused to investigate Paung Paung's complaint.
Ohn Taung, the 80-year-old patron of the Mon State Islamic Council, said he believes Mawlamyine has been spared large-scale communal violence because community leaders have worked hard to maintain harmony.  
"In the past, when religious conflicts were likely to break out, we invited Buddhist monks and sought their advice to prevent chaos, so we could maintain peaceful co-existence among different religions," he said. "We plan to hold discussions with Ma Ba Tha at an opportune time."
Ohn Taung added, "It's important to see all people who were born here, live here and will die here, as citizens and humans."
Story: Phyo Thiha Cho