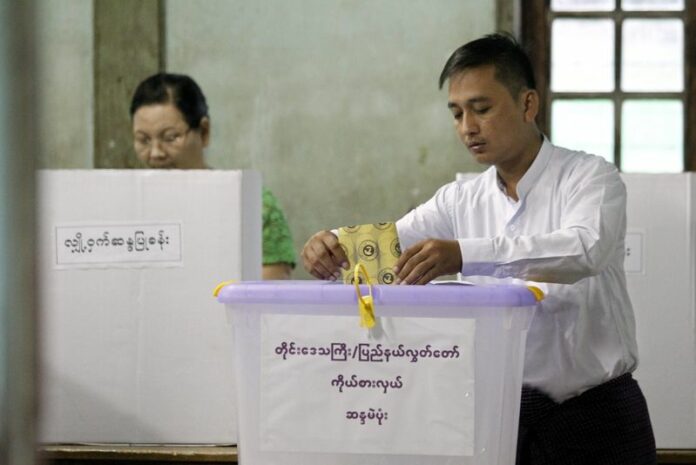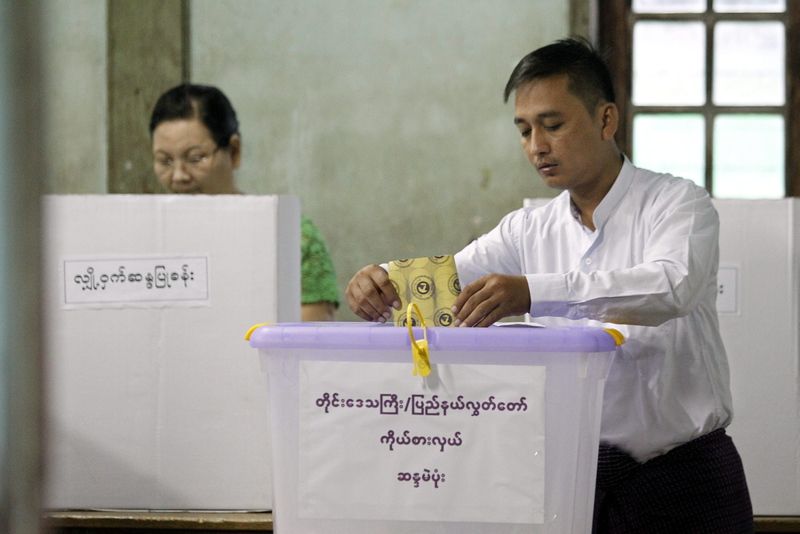 YANGON — Polls have closed in Myanmar after millions cast their ballots in an election pitting the army-backed establishment against an opposition led by Aung San Suu Kyi, in the country's first fully contested polls in 25 years.
Downtown Yangon was quiet on Sunday night as voters stayed indoors to follow election results.
Several hundred supporters of Aung San Suu Kyi's National League for Democracy party gathered outside the main party headquarters in a Yangon suburb, braving rainstorms and heavy traffic.
"I am here to watch history being made," said Ko Koo, who despite the pouring rain joined in on the festive atmosphere, dancing and singing with hundreds of others.
Final election results were not due for several weeks, but state television showed the NLD leading by heavy margins in certain constituencies while other areas were too close to call.
The NLD released a statement late on Sunday urging supporters to accept election results without exception.
A new government will not be formed until March, when the current administration's term expires.
Human Rights Watch, which has several observers throughout the country, said late Sunday that there had been "no major issues" during the voting process.
"So far we have not received any reports of violence or fraud," said Phil Robertson, Deputy Director of HRW's Asia Division. "We haven't seen anything that we are worried about right now."
Earlier on Sunday, opposition leader Suu Kyi – who has expressed concern over the long gap between the polls and the new government – cast her ballot in a school building near her home in Yangon, in front of crowds of supporters and hundreds of foreign journalists.
Her National League for Democracy (NLD) party is hoping to win enough seats to overturn decades of military or military-backed rule, but would require over two-thirds of the contested seats to win a parliamentary majority.
The last time the NLD contested elections, in 1990, it won a landslide victory that was later disqualified by the military. The party boycotted the last polls in 2010.
Nobel Peace Prize laureate Suu Kyi arrived at the polling station in Yangon wearing red – her party's colour – to the cheers and cries of supporters, and flanked by bodyguards.
Even though she is constitutionally barred from becoming president, the country's top post, Suu Kyi said earlier in the week that she would "run the government" if her party wins.
Local television showed incumbent President Thein Sein of the ruling army-backed Union Solidarity and Development Party (USDP) arriving to vote at a polling station in Naypyidaw, the country's administrative capital.
Thein Sein told reporters that he was prepared to accept the result of the elections, even if the USDP loses.
"We have to respect the will of the voters," he said.
The USDP has ruled the country for the last five years, and has campaigned on a message of continuity and stability.
With many former army figures among its leadership, the USDP has argued that only it can tread the path to democracy under the watch of a distrusting military.
"We must lead the country at least five more years so that the transition process stays peaceful," said Hla Swe, a former army officer and a sitting member of parliament for the USDP.
Story: DPA / By Cod Satrusayang and Kyaw Lynn