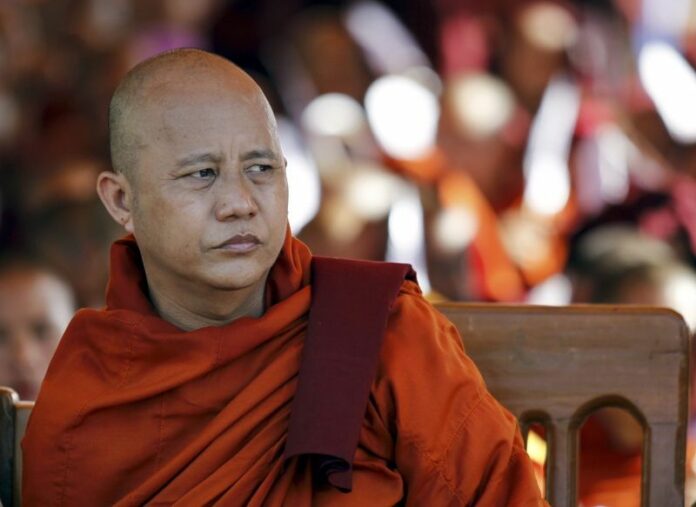 YANGON — Two leading members of the Buddhist nationalist monk group Ma Ba Tha cautiously welcomed the landslide victory of Aung San Suu Kyi's National League for Democracy in the country's election, but warned against any attempt to change the controversial "race and religion laws."
Firebrand monk Wirathu, notorious for his anti-Muslim rhetoric, told Myanmar Now the group is determined to protect the laws even if they need to confront a new NLD government.
The Patriotic Association of Myanmar, better known by its Myanmar language acronym, Ma Ba Tha, had urged the public to shun the NLD in the run up to the elections, saying a win for the opposition party would risk the country being dominated by Muslims.
Ma Ba Tha monks have publicly voiced support for the military-backed ruling Union Solidarity and Development Party (USDP), which this year swiftly passed laws proposed by Ma Ba Tha that the nationalist group claimed would protect Myanmar women and Buddhism, but which critics said discriminated against minority Muslims.
With the majority of official results from Myanmar's historic elections on Nov. 8 announced, it seems the public has decided to ignore Ma Ba Tha's advice.
The NLD won a landslide victory, trouncing the USDP by a wide margin and eclipsing most ethnic parties.
Pamukkha, a leading Ma Ba Tha monk who lives in Yangon, said the democracy would be better than authoritarian rule of the military leaders and would challenge cronyism which has taken root in the country.
"In the past, dictators, business cronies and those who have money are the ones who get everything and won over everyone else. This is going to end," he said.
"I also expect the public would soon receive protection under the law under the new administration."
The central committee of Ma Ba Tha issued a statement on November 9th, calling for all the stakeholders to accept the results of the general elections and to make sure that the democratic values and national interests are pursued in a harmonious manner.
Hands Off 'Race and Religion' Laws
Ma Ba Tha monks, however, warned that if the NLD takes steps to amend the 1982 Citizenship Law and the "race and religion" laws which they originally proposed, there would be confrontation. 
Wirathu, while acknowledging that the victory of NLD was the public's choice, cautioned the party.
"They said they will amend these laws … (but) the NLD need to consider which is more important—to reestablish the country or to revoke the nationalistic law," he said.
"If they think it's more important to work on the development of the country, then they should focus on that. But if they assume that the revocation of nationalistic laws is more important, they will do that first."
Venerable Vimala Buddhi told Myanmar Now ahead of the elections this was not a right time for Aung San Suu Kyi to lead the country, saying she would be like an "underage girl who got married."
"When an inexperienced person leads the country, the USDP will turn into an opponent party. The USDP is backed up by the military. You can imagine what will happen."
Story: Ei Cherry Aung and Phyo Thiha Cho