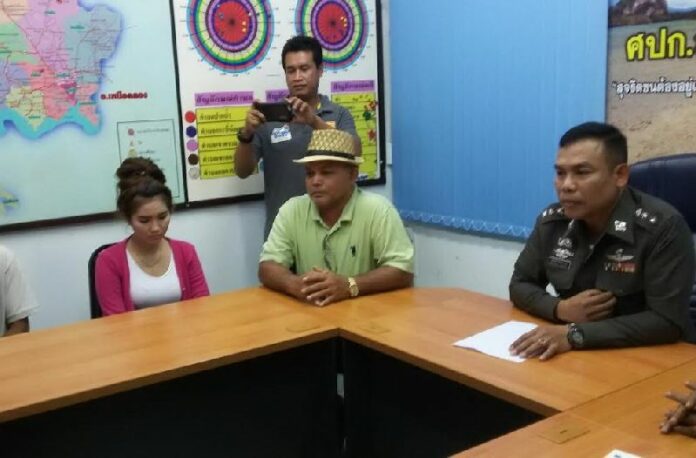 KRABI — Police say they are mulling charges of defamation against a woman who allegedly berated a traffic police officer in a video posted online.
Sukanya Laiban, 23, met with police Friday and admitted to posting the video to rant against the officer for telling her not to park in a restricted area, but the commander of Krabi Police Station is adamant she should face criminal charges for her inflammatory words.
"She conceded that she was angry when she made the video, so we reprimanded her," police Col. Sompong Thip-aphakul told Khaosod English. "We have not charged her with any crime so far, but I think she will be, because I already assigned my officers to look into it."
According to Sompong, one of his officers, Prathum Srichanapai, was on patrol in Krabi town center when he spotted Sukanya parking illegally near an intersection, so he told her to move her car.
Sukanya did drive away from the scene, but she went on to vent her anger at Prathum in a video that she recorded on her cellphone and later uploaded it to Facebook, which it was viewable to all, Sompong said. He described the video as incendiary and unfair toward Prathum, such as falsely accusing him of planting drugs on motorists to implicate them on false charges.
Sukanya's account appeared to have been deactivated by Friday.
Sompong said some internet users forwarded the video to his police station. Police then tracked down and summoned Sukanya to the station yesterday.
He said the police are planning to charge her with defamation under the Computer Crimes Act.
The latter is a draconian law that forbids a wide range of actions on the internet, such as making statements that are "false" or "defamatory" to others. The charge carries a maximum penalty of three years in prison.
Speaking by telephone, Sompong defended the use of the law against Sukanya, arguing that her rant went beyond the legal bounds of fair criticism.
"I watched the video, and I think it's more damaging than normal criticism. She made accusations that are not supported by any facts," he said.