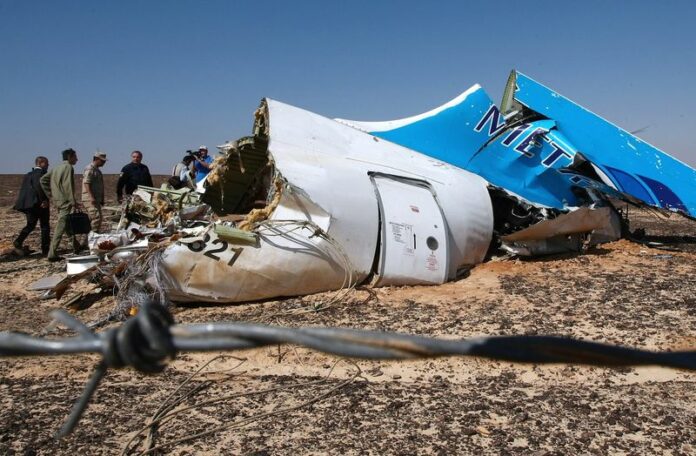 MOSCOW — Russia for the first time said Monday that a bomb brought down a Russian passenger jet in Egypt last month that killed all 224 people on board.
"It can be unambiguously said that this is a terrorist act," said Alexander Bortnikov, the head of Russia's Federal Security Service, according to state-run TASS news agency.
The ill-fated Metrojet Airbus A321 was heading from the popular Egyptian resort city of Sharm el-Sheikh to Russia's second-largest city, St. Petersburg, when it crashed about 20 minutes after take-off in Sinai on Oct. 31.
The plane was blown up by a "homemade explosive device equivalent to 1 kilogramme of TNT … Due to which the plane broke up in the air and this explains the spread of the plane's fuselage parts over a large distance," Bortnikov told President Vladimir Putin at a meeting, according to a transcript on the Kremlin website, TASS said.
He said traces of a foreign-made explosive were found in the debris as well as on the belongings of those on board.
"We will find the culprits behind the Sinai terror attack in any place of the globe and punish them," Putin was quoted as saying by Interfax news agency.
The president said "the murder of our nationals in Sinai is among the bloodiest crimes," according to TASS.
An affiliate of the Islamic State extremist group active in Sinai claimed responsibility for the crash, which was the deadliest civil aviation disaster in Russian history
"The activities of the Russian air force in Syria should not simply continue but should be intensified," Putin said. "It should be reinforced in a way that criminals realize that punishment is inevitable."
FSB also announced a reward of USD$50 million (1.8 billion baht) for information about those responsible for the bombing.
Story: DPA