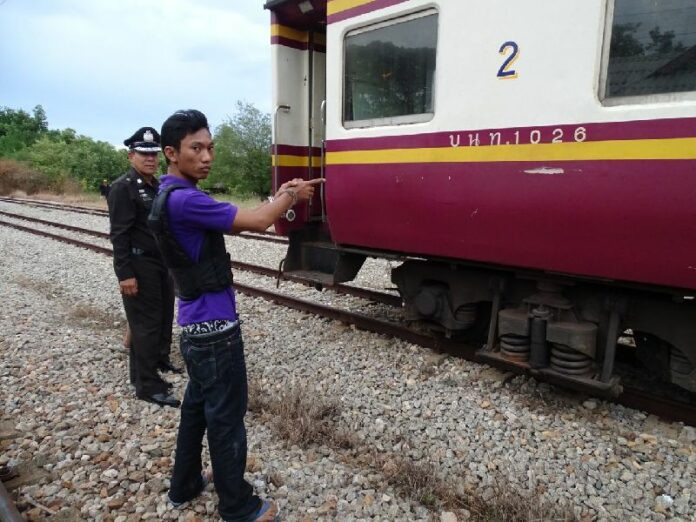 BANGKOK — Thailand moved closer to its first judicial execution in six years when a man convicted of raping and murdering a teen girl aboard a train last year has declined to contest his death sentence.
Former state railway employee Wanchai Saengkhao, 23, will not appeal his guilty verdict in the Supreme Court, his lawyer said, effectively moving him to death row and clearing the way for him to file for a royal pardon.
"He admitted to the facts in the case. He also repented his actions," lawyer Bunjerd Yamoath told Khaosod English by telephone today as to why his client declined to appeal.
In September 2014, Wanchai was sentenced to death for raping and killing a 13-year-old girl two months earlier by throwing her from the moving train on which he worked the night shift. His verdict was affirmed by the appeals court this past September.
Wanchai is currently held in the Bang Kwang Central Prison, a detention facility for serious offenders and death row inmates.
Capital punishment is enshrined in the law but has been all but abandoned for the past dozen years. The last execution took place in 2009, when two drug traffickers were killed by lethal injection. Before that, the previous execution was carried out in 2003.
Witthaya Suriyawong, head of Corrections Department, told reporters he believes Wanchai decided not drop his appeal because he is aiming for a royal pardon that would stop the execution.
Death row inmates have the right to petition His Majesty the King to commute their sentences; executions can only be carried out after all appeals are exhausted, and only after the king rejects the petition.
The Royal Household Bureau considers the petitions on the king's behalf, heeding recommendations made by the government and Corrections Department.
"If Mr. Wanchai would like to file for a royal pardon, he can do so, because it's a right that every inmate is entitled to," Witthaya said.
Banjerd, the lawyer representing Wanchai, declined to speculate on whether his client plans to file a royal pardon.
"I'm not sure, it depends on Mr. Wanchai," Banjerd said.
Related stories:
Court Affirms Execution of Train Child Killer