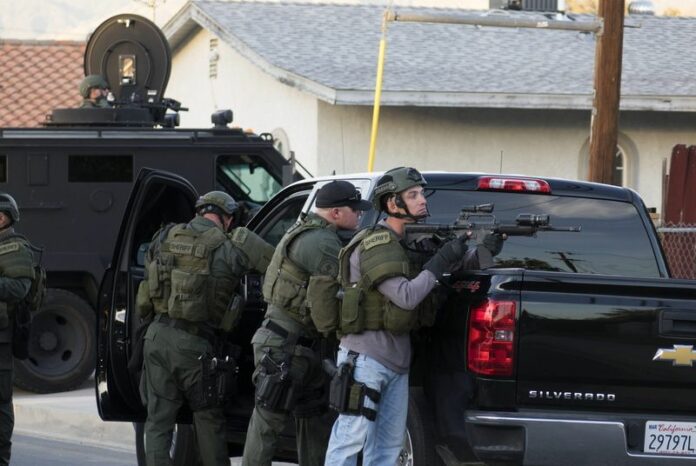 LOS ANGELES — A man and a woman suspected in a shooting spree Wednesday were dead after a car chase and shootout with police, according to authorities in San Bernardino, California.
The earlier massacre, which apparently targeted a party held in a rented conference room inside a local government centre, left 14 people dead and 17 wounded, several critically, police said.
FBI Assistant Director David Bowdich refrained from calling the shooting spree terrorism, but said there were "a few potential things" that raise suspicions.
San Bernardino Police Chief Jerrod Burguan said that officers investigating the attack, which occurred at approximately 11:00 local time, were responding to a tip about four hours later in the nearby community of Redlands.
A dark sport-utility vehicle leaving the location matched the description of a car described by witnesses as fleeing the earlier shooting. A chase ensued, leading to a gun battle with police, Burguan said.
The man and woman were each armed with both "assault-style" rifles and handguns, and dressed in what Berguan described as "tactical gear."
"Both of those people are deceased," Burguan said.
They came under fire from "several officers," but he did not know if they died from police rounds. Helicopter news video showed the vehicle riddled with bullet holes and windows shattered.
One officer was treated for minor injuries in the shooting.
A third person seen fleeing the scene of the shootout was detained but might not have been involved, Burguan said.
It was not clear late Wednesday if there was another suspect still at large, after initial reports from the shooting spree described up to three people opening fire and fleeing.
At the massacre scene, the attackers "came in with a purpose," Burguan said. "They came prepared to do what they did, as if they were on a mission."
The chief said that there was at least one apparent explosive device found at the scene of the shooting spree.
"We do not have a motive," Burguan said.
Bowdich called the case "a very fluid, active investigation," and said authorities would "go where the evidence takes us" on terrorism suspicions.
"I am still not willing to say that we know this for sure," he said. "It is a possibility, but we don't know that yet."
The massacre is the second major mass shooting in less than a week in the United States. On Friday, a gunman killed three people and injured nine others at a family planning clinic in the western state of Colorado.
The San Bernardino shooting spree is the deadliest in the United States since December 2012, when 20 children and six educators were slain by a deranged gunman at a school in Newtown, Connecticut.
In the immediate wake of the shooting, U.S. President Barack Obama called for tougher gun laws.
"There are steps we can take to make Americans safer," he told CBS News in an interview. "We should never think this is something that just happens in the normal course of events."
Obama called for Congress to close a loophole that allows people on a federal no-fly security list to purchase guns.
Story: DPA / Valerie Hamilton