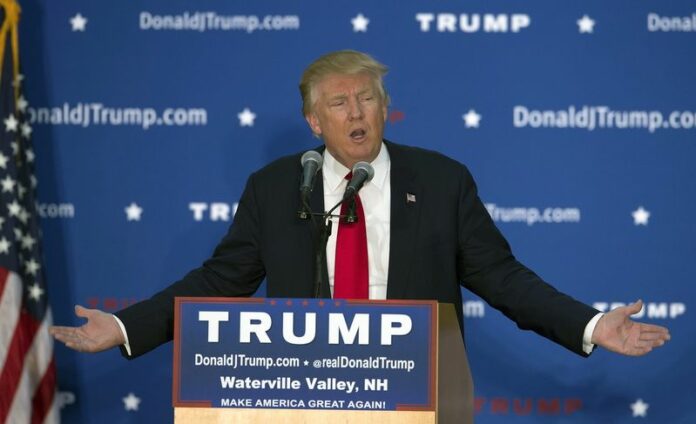 WASHINGTON — Presidential candidate Donald Trump was condemned Tuesday by a chorus of critics from around the world responding to his call for a ban on Muslims entering the United States.
Republican Party leaders from U.S. House of Representatives Speaker Paul Ryan to former vice president Dick Cheney distanced themselves from the billionaire businessman, who is the frontrunner among 14 Republicans actively seeking the conservative party's 2016 nomination.
U.S. media outlets and Muslim organizations joined the rejections of Trump's proposal.
White House spokesman Josh Earnest said Trump's proposal "disqualifies him from serving as president" and suggested that Republican candidates who stand by their pledge to support Trump if he wins the nomination disqualify themselves as well.
Other Republicans "should say right now that they would not support Donald Trump for president," Earnest said.
Trump, who did not specify how exactly his policy would work, went on a media blitz early Tuesday to defend his proposal.
"We're at war with radical Islam," Trump told broadcaster CNN, stressing that the ban would be "temporary" until US officials understand what is going on.
"Our country cannot be the victims of horrendous attacks by people that believe only in jihad and have no sense of reason or respect for human life," he said.
His statements follow last week's shooting spree in San Bernardino, California, by what investigators say were a "radicalized" Muslim couple, Tashfeen Malik and Syed Rizwan Farook. Fourteen people were killed and 21 wounded.
Malik, who was let into the United States on a fiance visa, pledged allegiance to the Islamic State movement shortly before or during the attack, according to U.S. officials.
Cheney told a conservative radio host that the notion that the United States could ban a whole religion "goes against everything we stand for and believe in."
Ryan said Trump's comments are "not what this party stands for … and more importantly, it's not what this country stands for."
A spokesman for U.N. Secretary General Ban Ki-moon said rhetoric that "relies on Islamophobia, xenophobia or any other appeal to hate anyone" shouldn't be followed by anyone.
The U.N. High Commissioner for Refugees said Trump's proposal was undermining efforts to resettle Syrian refugees. The agency said Trump's policy would put at risk "an incredibly important resettlement programme" that helps people fleeing wars, spokeswoman Melissa Fleming said in Geneva.
The U.S. is the largest recipient of refugees in the program and is set to receive 75,000 people from the Middle East, Africa and elsewhere this year.
Discrimination based on religion is against "every convention that we know of in aiding people in humanitarian emergencies and of course in resettlement," Fleming said.
Trump, who is leading opinion polls in the race for the Republican nomination, said the United States has no choice but to bar Muslims because Islamist radicals want to kill Americans.
"It's going to get worse and worse. We're going to have more World Trade Centers," he said, referring to the deadly attacks on Sept. 11, 2001.
British Prime Minister David Cameron said through a spokeswoman that he believes Trump's comment is "divisive, unhelpful and quite simply wrong."
Najib Ghadbian, the U.S. representative of the Syrian National Coalition, charged that such divisive rhetoric undermines the fight against the Islamic State movement.
"The United States has a long and proud tradition of providing refuge to those in need," said Ghadbian, whose coalition represents Syrian opposition groups. "Trump's hate-mongering only undermines that venerable tradition and plays right into the hands of [the Islamic State group] and other extremist groups."
Nihad Awad, president of the Council on American-Islamic Relations, told dpa that some candidates are saying things that undermine the fight against Islamic State.
"They have been playing into the hands of [Islamic State] whether they know it or not, whether they like it or not," Awad said. "America should be afraid of ignorance, not of Muslims."
Awad said religious freedom in America is at stake because the terrorist group is trying to undermine such freedoms, and some politicians are following suit.
"There is no religious conflict," he said. "It has to do with twisted ideologies."
Story: DPA / Gretel Johnston