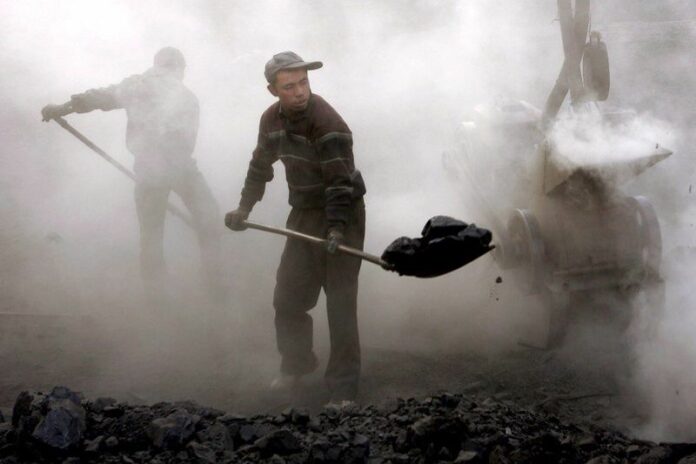 BEIJING — The owner of a collapsed mine containing 17 trapped miners committed suicide Sunday, state media reported.
Ma Congbo, president of Yurong Commerce and Trade Company, was aiding rescue efforts on Sunday morning when he jumped into a mine well and drowned, the Xinhua news agency reported.
Seventeen miners remained trapped two days after the gypsum mine collapsed in Shandong province, state media reported.
Structural instability and falling rocks were hindering the efforts of 700 rescuers using heavy machinery to dig along existing shafts to reach them, the Xinhua news agency reported.
Rescuers were trying to contact the miners through a hole drilled at one location and hoped to supply them with water and provisions, Xinhua said.
A miner whose leg was stuck under a boulder was brought to safety early Saturday morning, bringing the total rescued to seven, the agency reported. Four other miners found their own way out on Friday.
Survivor Zhai Guangmong recalled Friday's collapse when he and 28 others were working at the mine.
"After the cave-in, I could see nothing at all," he said.
Gypsum is a soft grey or white mineral used in tofu, fertilizers, toothpaste and plaster of Paris.
The owner of a deadly mine accident can expect heavy punishment in mainland China where accidents are common but declining.
In 2010, a Chinese court sentenced a mine owner to death for illegally storing explosives that killed 17 people near a coal mine in the northern province of Shanxi.
In the first nine months of this year, mainland China suffered 420 accidental mine deaths, down 39 per cent from the same period the previous year, the State Administration of Work Safety vice director Yang Yuanyuan said.
In the whole of 2014, 931 people were killed in mine accidents, a reduction of more than 86 per cent from about 7,000 in 2002, state-run news agency Xinhua said.
However, rights groups say mine accidents are often unreported or under-reported, due to China's lack of free press, independent trade unions or watchdog groups.

Story: DPA