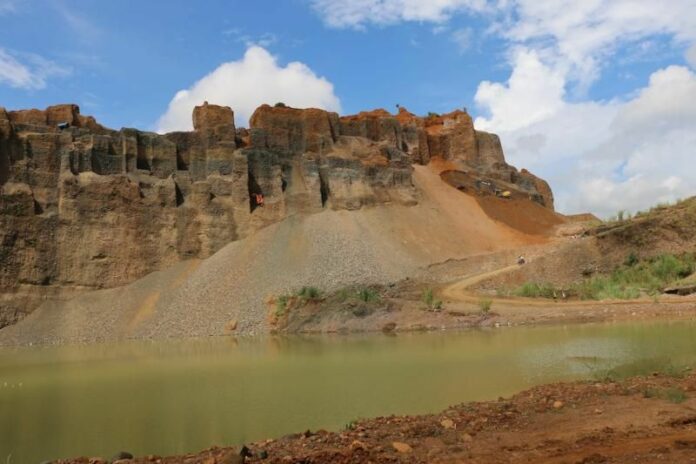 YANGON — During the Nov. 8 elections, Khin Maung Myint, 65, won an Upper House parliament seat for the National League for Democracy in Kachin State's Hpakant District, an area that has long been famous for its jade mines. The newly elected MP spoke with Myanmar Now about the industry's heavy social and environmental impacts, and how these should be addressed.
The jade trade is highly profitable but who controls it has been shrouded in secrecy, while most raw jade flows across Myanmar's northern border, untaxed, to China. In November, an investigation by international resource exploitation watchdog Global Witness revealed the trade could be worth as much as USD $31 billion per year. The family of former military supremo Than Shwe was said to have a large stake in the trade, along with members of the old army elite and an ethnic Wa drug lord.
Well-connected companies hold mining concessions, while thousands of small-scale, individual miners scour the edges of the mines in search of gems. This unregulated mining is dangerous; in November, more than 100 miners were killed when a huge waste heap caused a landslide. The rapacious operations have left Kachin State's environment deeply scared.
Question: Some reports say there has been a sharp increase in mining activity after the opposition's election victory on Nov. 8. Are companies speeding up mining? 
Answer: Yes, many heavy machinery vehicles have been coming into Hpakant since the start of this month (December). The companies are getting worried that the new government may restrict the jade mining. So they are now operating at the jade mines in Hpakant around the clock.
Particularly, the companies related to the Wa ethnic group, such as Ever Winner, Myanma Tagaung, 111, Yarza Htarni and so on. There are also other companies owned by former Kachin rebel groups that signed ceasefire agreements with the government and transformed into border guard forces (under army control). They have dramatically stepped up the mining work in Hpakant.
Q: There are also reports that some locals in Hpakant are trying to block these activities. What are they concerned about?
A: You have rules and regulations to follow when you apply for a jade mining license. For example, you cannot transfer your mining area to someone else. You also have to make sure that the mining work is carried out without causing much damage to the environment. But these rules are not enforced at all on the ground. The companies are dumping waste on the banks of the Uru River. That's why the river is blocked during the rainy season and this causes flooding of riverside vegetable plantations of the locals.
Now, the companies are working around the clock, using heavy vehicles such as dump trucks, backhoes and excavators that are two or three stories high with a capacity to destroy mountains within a matter of days. The mining activities also leave behind huge craters, as big as 40 to 50 acres wide. So these craters become lakes during the rainy season. They can be very dangerous for the locals because these craters tend to break open under the pressure of water and cause flash floods.
Q: The Global Witness report estimated the value of jade production last year alone exceeded $30 billion, but it is onlyhundreds of millions of dollars, according to official data. What does this tell us about jade smuggling?
A: Jade smuggling is an open secret. Companies bribe military officers in charge of border checkpoints in areas of Kachin State, such as Kampaiti and Nam Sanyam, and have been openly smuggling jade to China.
Most of the best jade stones are smuggled out to China, while only a few of them go to the jade emporium in Naypyitaw. This would be very clear if you visit Chinese cities such as Guangzhou (where jade is traded).
Q: To what extent are Chinese businessmen involved in the jade mining? Government records indicate there is no foreign involvement in mining in Hpakant.
A: No foreigners are directly involved in the industry on the ground, but there is a lot of foreign investment from China. The family members of high-ranking Chinese government officials are shareholders in companies such as Ever Winner and other companies related to the Wa ethnic group. There are some others also who are investing in the industry to launder the black money gained from the drug trafficking.
Q: Hundreds of small miners have been killed in landslides in Hpakant over the years. Why do these accidents continue to happen?
A:  We are seeing excessive use of heavy machinery at the jade mines. Small-time jade stone pickers sometimes are not aware that vehicles are nearing when they are competing with each other to get jade stone. That's when they are run over by the heavy trucks. Some of these people are high on drugs and mindlessly wandering at the jade mines.
The drivers of heavy machinery cannot properly check whether there are people near them or not, because these vehicles are 25 feet long. The diameter of a wheel of a heavy machinery vehicle can be about eight feet high. So if a man was run over, his body will be completely flattened.
Q: You are a native of Hpakant. How much has the town and its surroundings changed because of mining in past decades?
A: Jades were manually extracted about 25 years ago. There was no heavy machinery at that time. We could drink the water of Uru River that flows through Hpakant. We can use its water to cook rice. We could also get vegetables that naturally grew there. But now forests have completely been destroyed, so much so that we cannot get firewood anymore. So many natural mountains have been wiped out, in their places sprang up piles of dumped waste from the mining areas that are as high as mountains.
Some jade companies such as the Yadana Taung Tann Company owned by Tun Myint Naing (aka Steven Law, owner of Asia World), the son of the late drug lord Lo Hsing-Han, dynamited the mountains at their jade mining sites. These giant mountains would explode and collapse like the World Trade Centre during the 9/11 attack, sending off storms of dust. Mountains as high as 500 or 1,000 feet were obliterated in a matter of days.
In violation of the license rules, the companies dumped the soil near the Uru River. These soil later flowed into the Chindwin River, causing high sandbanks there during the rainy season. Given the negative environmental consequences the jade mining have caused, we think it's time to stop this industry.
Q: Since you were recently elected as an MP for Hpakant, what laws will you propose to the parliament to address jade mining issues?
A: Transparency is the most crucial issue. We would need to find out if the money invested in the industry is coming from the drug trade, and if companies are following the rules and regulations of their mining licenses. With all these data compiled, we could regulate the industry.
If we found that the industry should be shut down, then we would have to shut it down. Actually, many countries do not have this resource, jade. So we can sell it any time we want. Since we are now producing and selling it like vegetables, we don't get a proper price.
Story: Swe Win