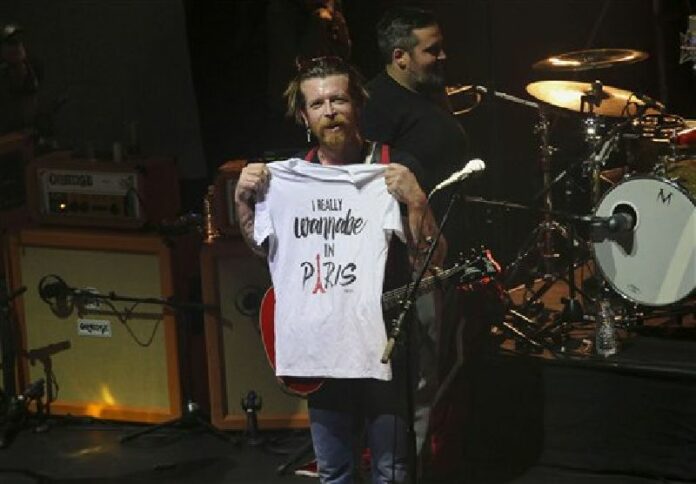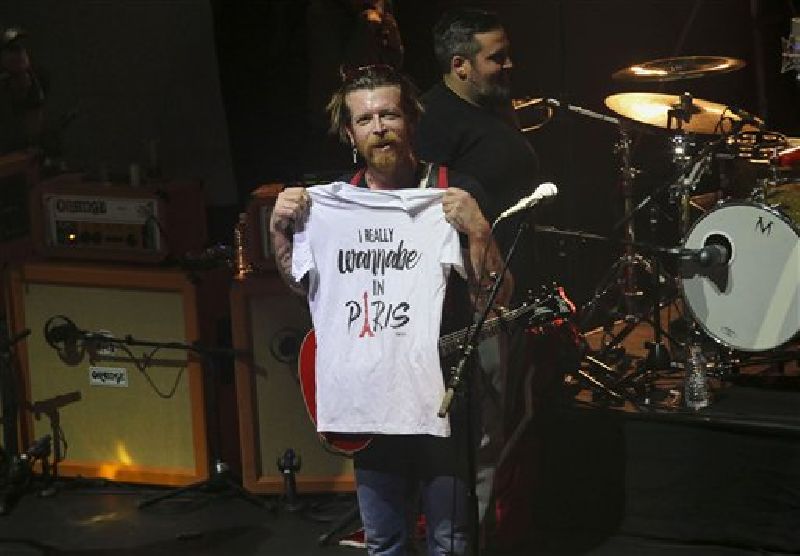 PARIS — The California rock band Eagles of Death Metal performed Tuesday at a highly charged Paris concert filled with fans who survived a terrifying massacre and siege at their last Paris show – and filled with memories of those who didn't.
"Bonsoir Paris, we're ready for this!" frontman Jesse Hughes told the crowd at the Olympia concert hall, before heading straight into the first song.
Later, between two songs, he shouted: "Peace, love and rock and roll!"
The band's performance Nov. 13 at the Bataclan concert hall turned into a bloodbath when Islamic extremist suicide bombers stormed in, as near-simultaneous attacks hit cafes and a stadium around Paris. Scores of concert-goers at the Bataclan were killed, while others hid or lay motionless for hours until a police raid ended the siege. The Islamic State group claimed responsibility for the attacks.
Armed police guarded entrances to the Olympia for Tuesday's performance, and concert-goers went through three bag and body searches before entering. Attendees seemed in good spirits ahead of the show, some drinking outside.
A crowd waits outside the Olympia music hall the Eagles of Death Metal's concert, in Paris, Tuesday, Feb. 16, 2016. Photo: Thibault Camus / Associated Press
One man wounded at the Bataclan appeared at Tuesday's concert in crutches. Others overcame deep fears or depression to attend.
"After the attacks … I felt apprehension even being at the movies," said Bataclan survivor Florian Novac. After seeing the security at Tuesday's concert, however, he said, "Now I'm not afraid, I am confident."
The show saw one band member smash a guitar but was otherwise peaceful, and the crowds left uplifted.
One survivor, Alexis Lebrun, described himself as "very scared" ahead of the show.
He and other survivors opened up to a French terrorism commission ahead of Tuesday's concert, questioning how the French government failed to stop the attacks that claimed 130 lives, most of them at the Bataclan.
The violence came just 10 months after deadly jihadi attacks on a satirical newspaper and a kosher supermarket pushed the country into high alert, and forced French lawmakers to look for ways to further protect citizens.
Lebrun wondered why there was scant security around the Bataclan, one of Paris' biggest music venues, given the heightened alert in the city.
"No security measures were seen. No military or police presence in front of the hall. No particular searches at the hall entrance," Lebrun noted.
"How come the national security alert was at its highest level, yet there were no provisions to mobilize some guards in front of venues welcoming hundreds or thousands of people?" he asked.
Speaking to i-Tele television ahead of the concert, Eagles of Death Metal singer Hughes broke down sobbing.
"I don't know why God picked us to be the band."
Some came to Tuesday's concert in solidarity.
Concert-goer Virginie Todisco said that "it was a huge symbolic moment and it was just time to have some fun."
Story: Thomas Adamson / Associated Press