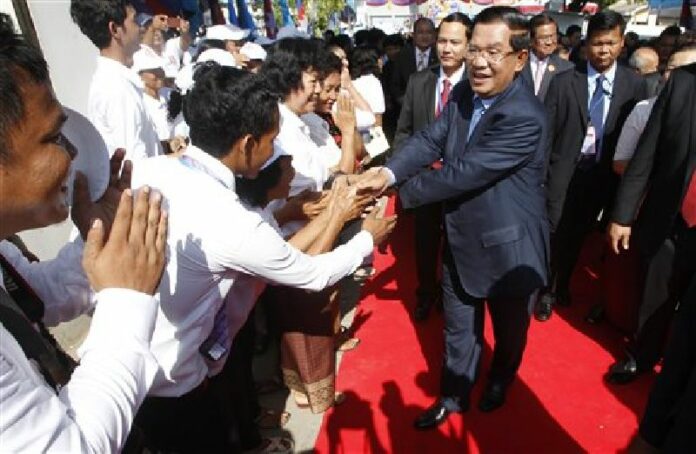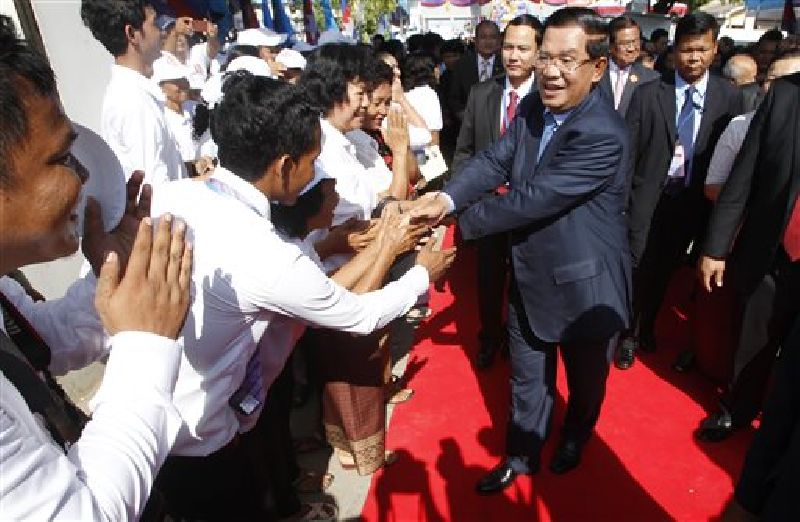 PHNOM PENH, Cambodia — Cambodia's long-ruling Prime Minister Hun Sen and exiled opposition leader Sam Rainsy have gotten an early start on campaigning for elections in 2018, vying for "likes" in Facebook as the political role of social media grows among the country's youthful electorate.
Both Hun Sen and Sam Rainsy tend to favor a casual approach, like Sam Rainsy riding a bicycle in the snow, or standing at the beach in a swimsuit. Hun Sen, swathed in a plush, white terrycloth bathrobe, clutching two mobile phones in the dark; sitting on the ground eating noodles, watering flowers or hugging his grandchildren.
"Technology can make you ubiquitous," said one of Sam Rainsy's recent posts. Given his nearly daily updates from villages, ceremonies and golf courses, Hun Sen appears to agree.
With a general election due in 2018 and local polls next year, Hun Sen increasingly is using Facebook as a way to answer public complaints, monitor dissent and polish his public image. On Feb. 8, he ordered government officials to set up a working group to track citizens' complaints and appeals.
"We are in a pre-election campaign already," said Jonathan Bogais, an expert on Southeast Asia at the University of Sydney. "Hun Sen knows it will be very difficult so he is taking action early."
Cambodia got a late start: Software enabling use of the local language Khmer script was only developed about a decade ago. But since then the country has leapfrogged straight into digital politics.
Now, almost all adults in Cambodia own mobile phones and nearly a third say they have Facebook accounts, according to an Asia Foundation study compiled in 2015.


Sam Rainsy, leader of the opposition Cambodia National Rescue Party, waves from a car Aug. 16 upon arrival at Phnom Penh International Airport in Phnom Penh, Cambodia. Photo: Heng Sinith / Associated Press
More Cambodians rely on Facebook for news than on the radio, though television still is their leading source of information, the Asia Foundation study showed.
Cambodia has not invested in the kinds of sophisticated surveillance technology used to police the Internet in communist-ruled China, and is unlikely to do so, says Tharum Bun, a blogger and communications specialist based in Phnom Penh.
"I believe the government won't go down that road because it's going to be a significant setback to do that," he said. "A win-win strategic approach is to utilize the Internet, Facebook and digital platforms for social listening as well as for a modern-time media machine."
It's impossible to know how accurate a measure of popularity Facebook "likes" can provide. Most popular in Cambodia, as of Tuesday, was Voice of America in Khmer, with nearly 3 million "likes." Hun Sen had 2.84 million and Sam Rainsy had 2.2 million, substantial followings for a country of about 15 million people.
Hun Sen's grandfatherly images on Facebook belie his reputation as a sometimes ruthless ruler. Social media can also be a potent weapon for damaging reputations.
Over three decades in power, Hun Sen has long exerted strong control over traditional media, and expressing public dissent in Cambodia remains risky. The government has tightened controls on telecommunications and threatens prosecution of online critics, especially those commenting on Hun Sen and his family.
But while the government still engages in violent repression at times, Hun Sen is a master of political strategy and mindful of the changing mindsets of Cambodians, apparently viewing Facebook as a way to exert control in a subtler, nonviolent way.
"Now he faces a very different situation with social media. It cannot be controlled through hard repression," Bogais said. "He has to ensure he takes control and reinforces a 'benevolent autocrat' image."
Hun Sen denied that a Facebook page set up after his party lost more than 20 parliamentary seats to Sam Rainsy's Cambodia National Rescue Party in a 2013 election was his, until September, when after his page logged more than 1.3 million "likes" he started posting frequent updates.
"All Cambodian compatriots, for the sake of our country's progress, especially to promote people's livelihoods, please join with Hun Sen to prevent and eradicate corruption by sending messages or documents to this 'inbox'," he said in a post Monday.
Sam Rainsy, cut off from traditional media and facing possible arrest if he returns home, has little choice but to rely on his Facebook page and other alternatives.
Both men's posts are aimed at younger Cambodians who form nearly 40 percent of the electorate, grew up as their country opened to the outside world and aspire for more. Older Cambodians still haunted by the bloody rule of the Khmer Rouge in the 1970s, when about a quarter of the population died from torture, overwork, starvation, executions and illness, may be more satisfied with peace and growing prosperity, said Bogais.
Social media is opening Cambodia in positive ways, Tharum Bun said.
"To be a popular digital democracy ruler on Facebook, Cambodian leaders have to be more accountable and transparent to their citizens," he said. "Who reads press releases anymore when a picture worth a thousand words can potentially go viral?"
Story: Elaine Kurtenbach and Sopheng Cheang / Associated Press