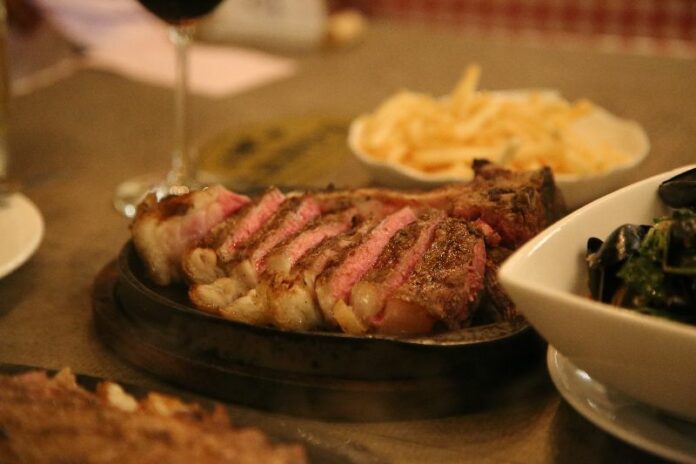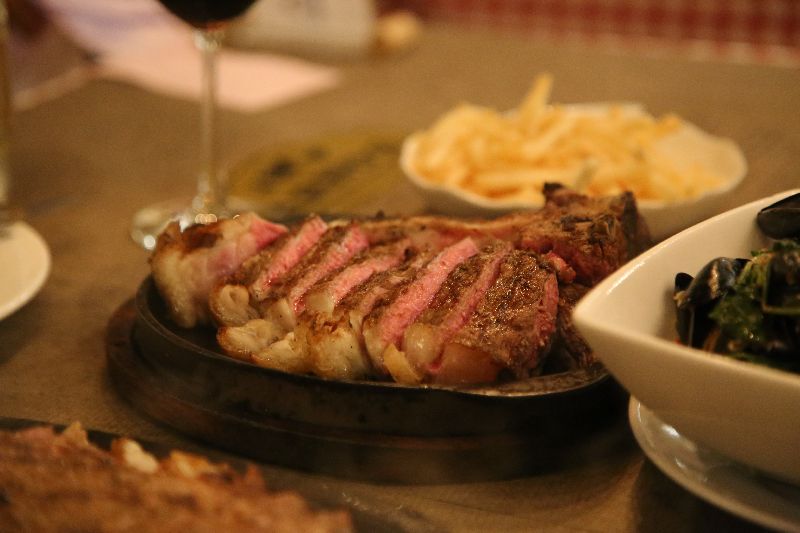 BANGKOK — At Arno's, don't be confused by the menu listing only value-oriented wines instead of food. Nor the waiter who doesn't take your order. Instead turn your attention to the jovial Frenchman behind the glass counter waving a cleaver and hacking away at cuts of beef he's aged for 45, 75 and 100 days. Master butcher Arnaud Carre will take care of you.
Arno's diners might feel like they're in a butcher's shop rather than a restaurant, and that's because Carre is, first and foremost, a butcher. His rise to steak-serving stardom wasn't planned, actually his original plan was to supply Bangkok with honest-to-goodness aged beef at reasonable prices. Imported beef faces heavy duties and local beef suffers from gristle and odd cuts that don't showcase the marbling or nuanced flavors of the meat.
Carre is changing that by bringing his French butchery expertise and undercutting the competition, offering quality meat at prices unheard of in Bangkok.
What started as a small dining area for wholesale customers to sample his wares grew into a full-fledged restaurant after Carre experienced soaring demand for aged steaks at prices hyped-up Sukhumvit joints can't dream of.
When I walked up to the counter, clearly struggling with all the choices, Carre stepped in to help. He sized me up, explained the goods (the longer the meat ages, the more intense and funky the flavor becomes), and broke down what he thought would work best: a kilo of 45-day, dry-aged ribeye. Seconds later a piece of deep red meat was removed from the display and hacked up with utmost precision and whisked out of sight.
We then sat down at the table after the lesson in butchery at the showcase. The process of selecting meat like you're in a supermarket and then being seated is what really drives home the fact that this isn't totally a restaurant. A red and white checkered tablecloth and chintzy decor makes it seem like ambience is an afterthought, but still the house is consistently full.
Then the meat hit the table in a fanfare of sizzles. An aroma of corn and hay filled the air while the popping and crackling steak sat on a hot plate surrounded by quartet of sauces: mushroom, pepper, truffle, and Thai.
There's really no way to cook a steak that can replicate the nuanced flavors of dry-aged meat. As the steak sits in a temperature-controlled environment under Carre's watchful eye, naturally occurring enzymes work their magic on the cut and turn proteins and fat into flavors that satisfy some deep-rooted primal carnivorous urge and leave diners saying "damn, that's some good steak!" with smiles on their faces.
And the best part? The smiles stick around even when the bill arrives. The sublime piece of meat I ordered came to 1,400 baht. Poke around any popular Sukhumvit steakhouse and you'd be hard pressed to find dry-aged cut near that price point.
Arno's is open 6pm to 10pm Tuesdays through Fridays and 11:30am to 10pm on weekends. It's located on Soi Naradhiwas Rajanagarindra 20 (Soi Olarik) in Bangkok's Yan Nawa district.