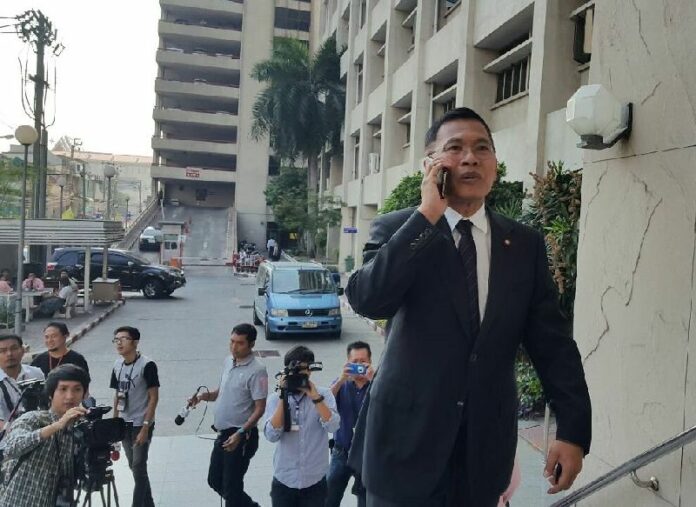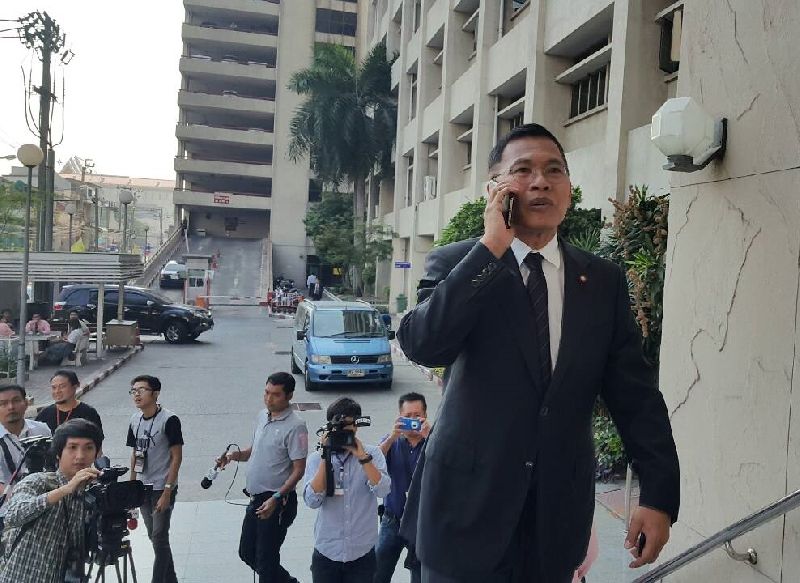 BANGKOK — Watana Muangsook, a senior member of the Pheu Thai Party, has been charged with computer crimes for criticizing a deputy junta chief's sexist comments about former Prime Minister Yingluck Shinawatra.
A day after the former MP was taken into custody by soldiers, he arrived at the Bangkok South Criminal Court this morning to hear a charge of violating the Computer Crime Act, for a message written Tuesday on Facebook critical of Deputy Prime Minister Prawit Wongsuwan.
"I was escorted by soldiers from my house to the 11th Military Circle for criticizing the deputy prime minister's interview given around 11.30am on Tuesday. I was later locked in a 5-by-8 meter room and interrogated by two sets of soldiers until I was escorted to the Nang Loeng police station at 9:30pm," Watana wrote online Thursday morning, saying he was freed and arrived home around 11:10pm last night.
Military officers visited Watana's house on Wednesday morning after the Pheu Thai member criticized Gen. Prawit as sexist for telling reporters that soldiers were shadowing the former prime minister because "she was pretty."
---
Soldiers Stalk Yingluck Because She's Pretty: Deputy Junta Chief
---
"His IQ is a little too low," Watana posted Tuesday on Facebook, attacking the junta for intruding on Yingluck privacy by routinely stalking and photographing her.
Gen. Prawit, who also serves as deputy chief of the National Council for Peace and Order, or NCPO, told reporters Wednesday that Watana would have his attitude adjusted again and again until he learned not to speak about certain issues.
"They will adjust his attitude [to understand] he shouldn't speak at the moment. I have already told him about this since a long time ago," Prawit said. "If he speaks 100 times, he will be summoned 100 times. And in the future, it will take 3 days, 7 days."
Watana's offending Facebook post, which was accompanied by a photo of Gen. Prawit, reads in full:

"'His IQ is a little too low

"I could barely believe my own ears when I heard a government member telling reporters that the case of soldiers intruding on Prime Minister Yingluck's privacy at a funeral: 'it wasn't intimidation. We were providing her security. They took photos of her probably because they thought she was pretty.' These words show sexual degradation. Importantly, the person who said this is a former army chief, who's presently deputy prime minister and deputy chief of the NCPO, and the same person who heads the Veterans Council that is facing allegation about his canal works.

"I believe that even elementary school kids know that Prime Minister Yingluck is a lady, a family woman, and a mother. She has never used barbaric words like someone else. What surprised me is this: Have his family or his school never taught him how to treat a woman with dignity? Even my mother, a rural woman who graduated only from the fourth grade, taught me to think before I speak. Gen. Chatichai [Choonhavan, former prime minister] also taught me 'Politicians must think before speaking about anything. If you just stay silent, people wouldn't know you're stupid.' I remember his words to this day. But I never expected to see apology from these people, because even though they seized power from the people and caused immense damage to the people, these same people are still shamelessly demanding gratitude from the people. And they show their lack of shame by refusing to return power to the people.

"From the day the NCPO seized power under the excuse of building reconciliation and national reform, the country took an unprecedented plunge. Society is even more divided because the government and NCPO pose themselves as belligerents. They urge people to respect laws and legal procedures, but the NCPO never set themselves as an example of responsibility. They don't respect laws and they discriminate. The NCPO never oppose amnesty and express their willingness for scrutiny, yet they avoid scrutiny in every way. They resort to power under Article 44, giving amnesty to themselves for what they did wrong. And in the latest case, they [will] use Article 270 of Mr. Meechai's constitution draft to absolve their wrongdoing. And while these men in uniform are running away from scrutiny, our former Mrs. Prime Minister – the one that you sent someone to photograph and covered it up by saying she was pretty – is attending court again on March 4. She will be scrutinized for the allegations against her.

"So, before you accuse anyone or demand anyone to come back to contest their charges, you must set yourself as an example first. Don't be a man only in your title of "Mr." I'm embarrassed for you."
Additional reporting Teeranai Charuvastra
Related Stories:
Junta Bars Pheu Thai's Watana From Leaving Country
Soldiers 'Politely' Stalk Pheu Thai Politician
Politico Accuses Soldier of Punching Him
Ex-Pheu Thai MP Appeals Junta's Travel Ban
Chayanit Itthipongmaetee can be reached at[email protected] and @chayaniti92.