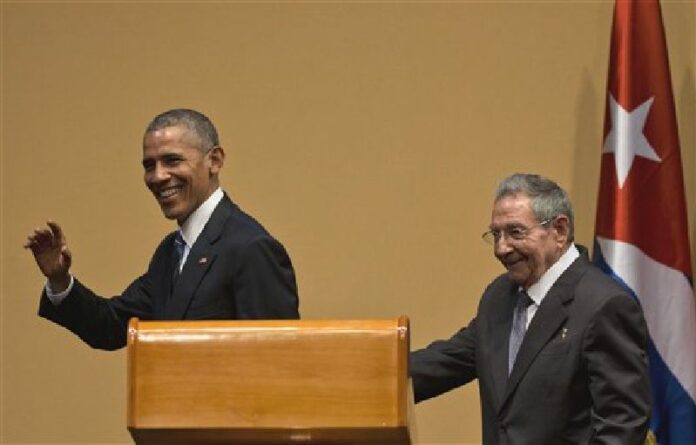 HAVANA — Cubans were glued to their televisions on Monday, many watching in a state of shock as President Raul Castro faced tough questions from American journalists who challenged him to defend Cuba's record on human rights and political prisoners.
In a country where publicly questioning the authority of Castro and his brother and predecessor Fidel is unthinkable for most, and where the docile state-run media almost always toe the party line, the live broadcast was must-see TV. Some also marveled at tough questioning of President Barack Obama, simply unaccustomed to seeing any leader challenged in such a way.
"This is pure history and I never thought I'd see something like this," said Marlene Pino, a 47-year-old engineer. "It's difficult to quickly assimilate what's happening here. For me it's extraordinary to see this."
"It's like a movie, but based on real life," said Ricardo Herrera a 45-year-old street food vendor.
In one eye-catching moment, Castro's response suggested that perhaps Havana is not always perfect on human rights. He argued that no country is, said it is incumbent on all to try to do better and defended his government's support of what it considers important human rights issues: providing universal, free education and health care.
At an outdoor cafe in the Vedado neighborhood, about a dozen Cubans and tourists watched in awed silence as both Castro and Obama spoke. One stunned woman held a hand to her mouth.
"It's very significant to hear this from our president, for him to recognize that not all human rights are respected in Cuba," said Raul Rios, a 47-year-old driver who also expressed agreement with the president's more nuanced explanation about rights and his argument that that no country is perfect.
"We are living in historic times, the United States and Cuba," Rios added. "Nobody could have imagined this in the past. I think this marks a before and after."
It's extremely rare for Castro to hold a news conference, though he sometimes takes questions from reporters spontaneously when the mood strikes. He's known as a much more cautious and reluctant public speaker than his loquacious older brother Fidel, who was given to talking for hours at a time and often directly with journalists.
The Cuban government and the Communist Party control nearly all media in Cuba, including TV and radio channels and print newspapers. There are a handful of independent online outlets, though more critical ones like dissident blogger Yoani Sanchez's 14ymedio are blocked on the island — and certainly never get access to the president or other top officials.
Monday's news conference also included an exchange between Castro and CNN reporter Jim Acosta, a second-generation Cuban-American, who asked about political prisoners in Cuba.
Castro testily addressed Acosta directly, saying "After this meeting is over, you can give me a list of political prisoners, and if we have those political prisoners, they will be released before tonight ends."
Cuba is criticized for briefly detaining demonstrators thousands of times a year but has drastically reduced its practice of handing down long prison sentences for crimes human rights groups consider to be political. Amnesty International said in its 2015-2016 report that it knew of no prisoners of conscience in Cuba, although a non-governmental group in Cuba that monitors human rights says it has a list of 80 behind bars and 11 more under house arrest. Cuban officials say many of those are common criminals.
Many islanders have a laundry list of complaints about daily life: corruption, scarcity, low salaries and so on. But few express sympathy for the outspoken political opponents of the Communist system.
"The journalist asked him about some political prisoners who aren't political prisoners. So the response from the president was very good, very appropriate: 'Show me the list,'" said Oscar Rodriguez, 81. "The questions shouldn't be so aggressive."
Alexander Galvez, a 43-year-old artist, was not impressed by Castro, who fidgeted with the headphones that piped in translations and then abruptly ended the news conference, saying, "I think this is enough."
"I think his answers left a lot to be desired. Raul seemed really nervous to me," Galvez said. "I also thought he was a bit jammed up. I would have liked for him to let them ask more questions and be open to all kinds of questions."
Story: Andrea Rodriquez and Peter Osri, Associated Press